3D Free Lovebirds Themes
Useful 3D PageFlip Theme Package for Fresh Template!
Free 4 in 1 3D flipping book theme for download.
Save your ebooks designing time and bring convenience to you.
Pre-designed background and pictures are provided for you.

Download
View Demo
3D Free Lovebirds Themes is with the topic related to lovebirds. The package of the templates includes four sample templates. Every picture is base on the color of dark pink. Vivid hue with lively lovebirds describes such a fine and natural sight. Suppose you want to advertise with a 3D page flip book online and offer your customers the products regard of love, such as couples' clothes or gift for Valentines' Day. Then you can design your 3D page turning book with a background which can highlight this topic. What shows to you here are the templates that help you with your advertisement plan. I am sure your readers will like it because the lovebirds mean love forever. It give flipping book readers the best wishes and show them the meaning of the most beautiful emotion of human beings in the world. Is it attractive? Move your mouse and download! It would never cost anything.
Before using these themes, make sure you have installed 3D PageFlip Standard or 3D PageFlip Professional.
This package belongs to "Fresh" template in the software, please find it in the "Fresh" template page after install.
Click here to know details about: How to use themes in 3D PageFlip software?
3D Page Flip Book Templates Screenshots - 3D Free Lovebirds Themes: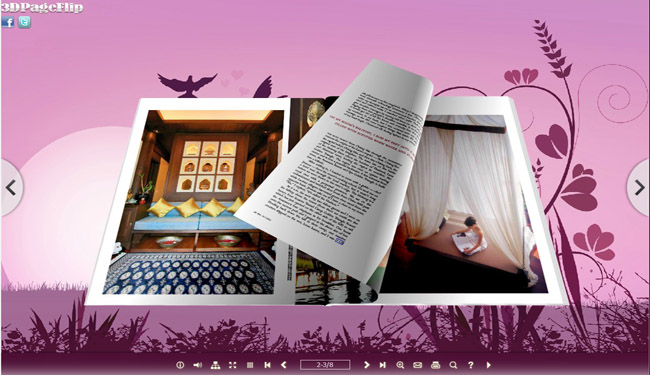 .