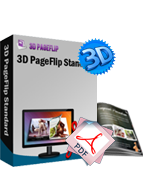 Abstract Painting 3D Page Flip Theme
This is free themes for 3D eBook designing
Help you improve your flash page turning book layout.
Download free templates to make your designing easier.
Updating page flip book templates all the time.

Download
View Demo
Abstract Painting 3D Page Flip Theme Theme is 100% free here for download to decorate your wonderful 3D page flip book!
Abstract Painting 3D Page Flip Theme is the most exaggerated theme for 3D Page Flip book. It's easy to use for just downloading and importing in the 3D PageFlip Standard and select from the templates interface when you are converting PDF to page turning book. It provides another vision to high light your 3D digital catalog. It's suitable for artist eBook, creative flipping brochure and more other related 3D page flip album.
Click here to know details about: How to use themes in 3D PageFlip software?
Abstract Painting templates for 3D Page flip book Screenshots