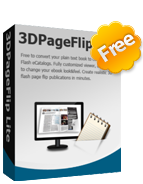 Freeware

3DPageFlip Word to PDF-
freeware
Free eBook-Creation Software to Create PDF from WORD
Quickly convert Word document to PDF format;

Support multiple document conversions (Batch Processing);
Support Convert PDF to word using watched folder and command-line mode;
Allows you to customize page size,page color, font, font style, font size, fond color, etc in the PDF file;
Preserve original document layout, include URL link, bookmark, images and tables

Download
PDF to Flash
3DPageFlip Word To PDF is a 100% freeware to to batch convert Microsoft Word documents into professional-quality documents in the popular PDF file format. Its easy-to-use interface allows you to batch create PDF files which can be viewed on any computer with a PDF viewer.
All the original text font, images, graphics, hyperlinks, layout and formatting are kept intact after conversion. It's available to add properties to the output PDF file,like the author, user password, owner password, allowed actions, etc. It support all popular PDF format. It allows you to customize page size,page color,font,font style,font size,fond color, etc in the PDF file.
3DPageFlip Word to PDF Converter will run independently and it won't need Adobe Acrobat.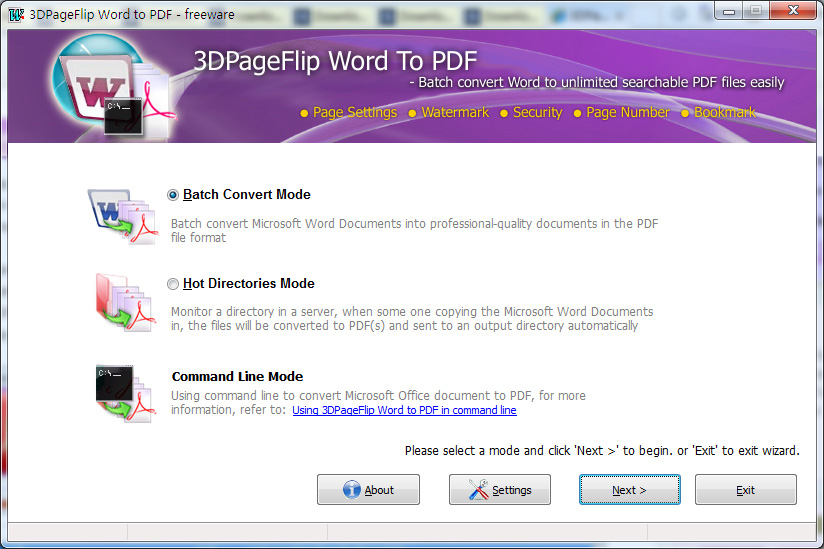 Features:
· Convert Word to PDF to enjoy smaller file size, better security, etc.
· Batch converts a piles of files at a time, saving time
· Change page orientation and select page size from 8 different sizes, set height and width of page, and adjust line spacing.
· Converts either an entire Word to PDF or just pages of Word to PDF
· Easier viewing across platforms, Windows, Linux, Mac, etc.
· Your document can be viewed through most of web browsers
· Retains 100% of the original features of the source PDF
· Convert Word to PDF with 100% the same of the original features
· By converting Word to PDF to better protect your file from modifying, altering or redistribution
· Hyperlinks, text styles, images, page layout are all kept the same of the source PDF
· Batch conversion to convert a list of Word to PDF at a time
· Allowed to convert the selected pages of Word to PDF
· Integrated in MS Word with a button in the Toolbar, handy for conversion
· The converter works fast, smoothly and consistantly
Accurate Conversion:
This powerful Word to PDF Creator will get you shock, since it accurately keeps the layout, text, tables, images, etc. of the original word files.
Good Security:
The PDF files created by Simpo Word to PDF are protected with strong 128bit encryption. That means you could set password and more advanced feature to secure your PDFs against copying text and images, modification to document and comments, printing document, etc.
Powerful
Now you can do more than view PDF files. Document Format (PDF) is the fact standard for the secure and reliable distribution and exchange of electronic documents and forms around the world, and now you can convert any Ms word documents into professional-quality PDF file format only by one click.
If you need convert PDF to 3D flash Flipping Book, please see : 3DPageFlip Standard
Introduction to 3DPageFlip Standard:
--------------------------------------------------------------------------------------------------------------------------------------------------------------------
3DPageFlip Standard is a perfect tool to transform your PDF files format into realistic 3D page flip magazines. With 3DPageFlip Standard, You can create amazingly realistic 3D interactive magazines, catalogs, brochures, books or newspapers in minutes without any Flash/HTML or programming skills. And you can use your 3D Digital Brochure edition online, offline (on your PC, IPad etc), burn it to a CD/DVD or use it with an usb storage device.
The pages turn with the option of rolling the entire book in three dimensions, and this induces a feeling in users as if they are holding an actual book in their hands.
Use realistic 3D page flip magazines effect to promote your book, boost your book's sales or to demonstrate your book in realistic, visual 3D animation!