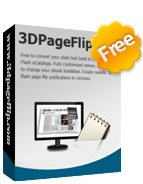 Freeware

Free 3DPageFlip PowerPoint to Flash Converter -
Freeware
Useful tool for PPT to SWF is developed for converting Microsoft PowerPoint documents to interactive Flash movies.
Convert all slides of one PowerPoint document to one SWF file.

Define effects of slide transitions and animations.
Support to add reference and attachment.
Sound integration with recorded voice or exited music.
Full customization for author or company information.
Support to publish online or offline.
If you need to convert PDF to Cool flipbook with 3D panoramic effect, page flip effect, 3D Sphere Gallery, 3D spin video, ect, you can try 3D PageFlip Professional.

Free Trial
PDF to Flash
Free 3DPageFlip PowerPoint to Flash Converter is designed to transform PowerPoint into rich media content as stunning Flash presentations with voice overs, video narrations and custom branding. With such freeware, you are allowed to make shockwave flash animated presentation from PPT files. It will not only include PowerPoint content, but also includes any references or attachments you want to show to your viewers! You can create own style audio as background sound and display caption as note for your voice. There are many transition effects are provided to choose for every PowerPoint slide. Author information and website information can be inserted in the flash animation for further use. All these functions focus on how to make a comprehensive PowerPoint to flash animated magazine! Finally it will bring Greater accessibility to PowerPoint. Once converted to flash, anyone can easily view a PowerPoint presentation using a standard web browser with HTML output format. Or publish with EXE format which requires no any special software installation!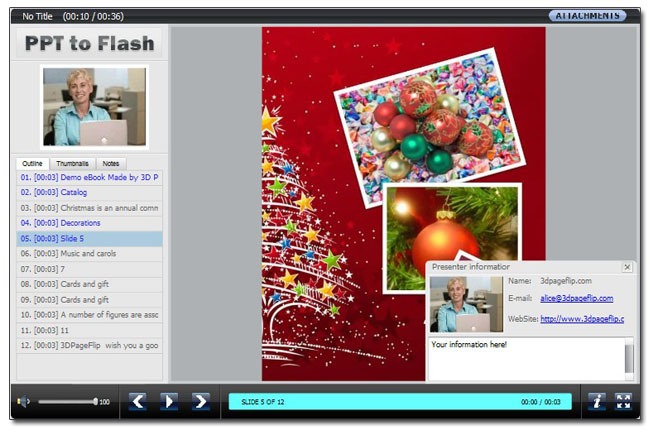 Main Features and advantages of Free 3DPageFlip PowerPoint to Flash Converter:
Define effects of slide transitions and animations
After converting PowerPoint to Flash, it will retain the entire slides' layout. In addition, you can set the slide transition interval between each flash slide. The effects are many and the transition time is able to be defined!
Reference and attachment for offering rich multimedia content to users
PowerPoint to Flash Converter is capable of delivering extra files as attachments or display outside URL source as references for users as great multimedia content! You can show your maximum information with such tiny flash movie!
Sound integration with recorded voice or exited music
Flash videos can integrate audio tracks, music or other recorded voices. Then you will produce a great way to produce video tutorials with your existing content easily.
Easily contact you via company and author information
You can enhance Flash slideshows with rich user-needed information like website, email, logo, company or personal image, etc.
Contain control bar of flash movie
With the basic interaction controls bar, the end user will control the flash presentation conveniently. They playback, stop, rewind the flash movie and even to choose what slide they want to view!
Full output options for flash movie publishing
There are lots of output types for online and offline view, including HTML, ZIP, and EXE! It would support you to spread PowerPoint flash movie all over the world as you like!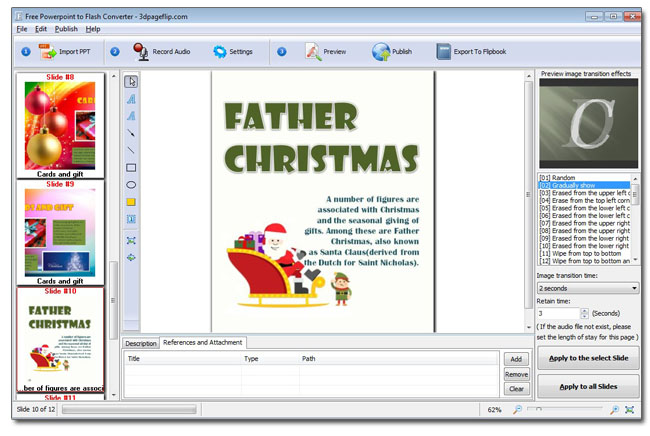 If you need convert PDF to 3D flash Flipping Book, please see: 3D PageFlip Professional or 3D PageFlip Standard
Introduction to 3D PageFlip Professional:
--------------------------------------------------------------------------------------------------------------------------------------------------------------------
3D PageFlip Professional is a comprehensive creator to convert PDF to flash flip eBook with 3D effect and multimedia content. The fantastic feature of the eBook is its 3D Look and realistic eBook look! Users can easily edit eBook page by inserting links, buttons, flash, images, etc, as rich and interactive content! Moreover, users can create 3D Model for their objects easily in this flipbook software. For example, you can create 360 degree spinning product to show an object fully. You can insert 3D Sphere Gallery for pictures to offer others a visual feast! 3D eBook is not only a page flip book for reading, but also a delicate exhibit as 3D e-magazine, 3D e-brochure, 3D e-catalog to show people the most fantastic 3D digital content!
Download