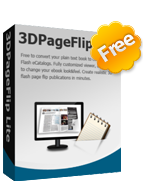 Freeware

Free PDF to Word-
freeware
Free eBook Conversion tools to Convert PDF to WORD
Preserve text, layouts, images, tables and hyperlinks in an editable Word document;

Support multiple document conversions (Batch Processing);
Support Convert PDF to word using watched folder mode;
Support PDF1.6 protocol (formerly only supported by Acrobat 7.0);
Support Command Line Operation (for manual use or inclusion in scripts);

Download
PDF to Flash
3DPageFlip PDF to Word converter is a 100% free document converter that can easily convert any PDF file into editable Word or text format. It preserves text, layout and images in the converted document as it is in the original file. This PDF document is exactly replicated in fully formatted Word file in a well-organized manner. With 3DPageFlip PDF to Word converter, you can reuse all your content without any need of retyping it. This surely saves a lot of valuable time and effort!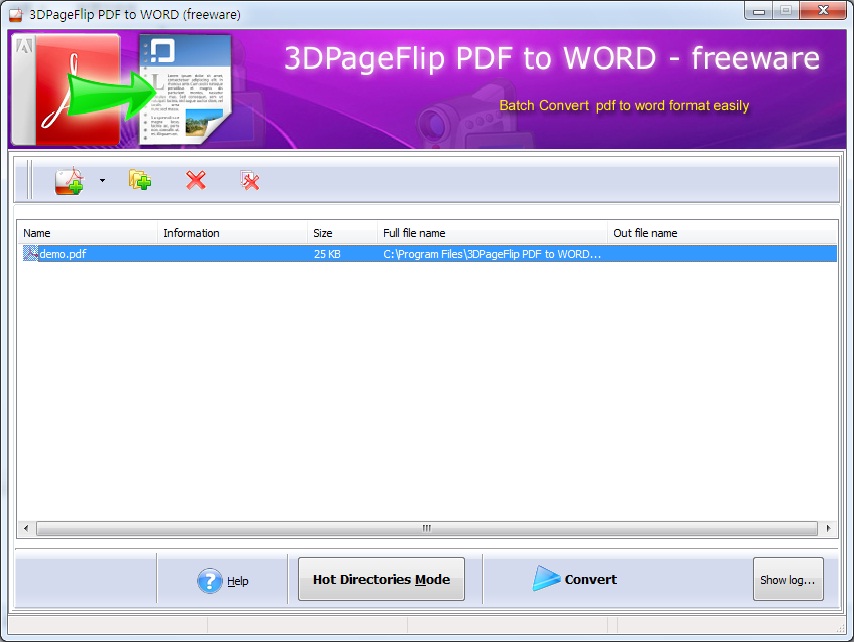 Features:
Intuitive, easy-to-use one screen conversion interface
You don't need to be an expert at computers to use 3DPageFlip PDF to Word. Unlike other PDF to Word converters, we realize the value of your time, which is why your conversion needs are now met through a single, well designed screen. Just specify your options and click 'Convert', your document will get converted.
Protects rotated images, shapes, text and page:
With advanced features bundled in 3DPageFlip PDF to Word Converter software, rotated pages, images or any other objects are automatically recognized. So it is aptly preserved when a PDF document is being converted into editable Word format. This means vertical image will remain vertical in the converted document too without any variation!
Batch conversion option:
Select batch conversion option to convert multiple PDF files at one time. This ensures that you can process multiple PDF files instantly with just a click.
Does not depend upon Word application:
3DPageFlip PDF to Word Software does not depend upon any other program such as Adobe Acrobat, Acrobat Reader or Microsoft Word for installation since this is a stand-alone program.
Easy to Use Wizard:
By selecting a simple wizard interface, you can customize the interface of the PDF converter. You can convert your PDF documents in simple steps without any complex options.
Easy Troubleshooting
3DPageFlip PDF to Word generates a summary after each conversion and also creates a log file. Incase of any document conversion failure, the log file helps you to understand the reason of failure. If you are unable to figure out the problem, just mail us the log file. You can also use the help file to understand the functioning of the software and for detailed user instructions.
If you need convert PDF to 3D flash Flipping Book, please see : 3DPageFlip Standard
Introduction to 3DPageFlip Standard:
--------------------------------------------------------------------------------------------------------------------------------------------------------------------
3DPageFlip Standard is a perfect tool to transform your PDF files format into realistic 3D page flip magazines. With 3DPageFlip Standard, You can create amazingly realistic 3D interactive magazines, catalogs, brochures, books or newspapers in minutes without any Flash/HTML or programming skills. And you can use your 3D Digital Brochure edition online, offline (on your PC, IPad etc), burn it to a CD/DVD or use it with an usb storage device.
The pages turn with the option of rolling the entire book in three dimensions, and this induces a feeling in users as if they are holding an actual book in their hands.
Use realistic 3D page flip magazines effect to promote your book, boost your book's sales or to demonstrate your book in realistic, visual 3D animation!