Freeware

3DPageFlip PDF to Text-
freeware
Free eBook Conversion tools to Convert PDF to Text
Convert PDF documents to text format

Recognizes numbered and bullet lists.

Support extracts hidden text layer from PDF file to text file;
Support converting define pages of PDF to be converted;
Support Storing the original text, layout, tables, etc.

Download
PDF to Flash
3DPageFlip PDF To Text Converter is 100 freeware that will help you convert PDF to Text without requiring any other software.
The extracted content is saved to text files where it can be easily searched, archived, repurposed, and managed. pdf to text converter keeps original page layout in the generated text file.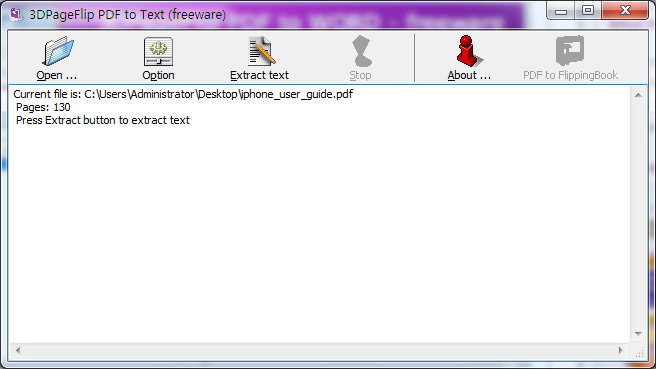 Features:
· Standalone software, Adobe Acrobat and Reader NOT required!
. Quickly converts PDF documents to text files.
· Does NOT need Adobe Acrobat software.
· Doesn't depend on any print driver.
. Extract hidden text layer from PDF file to text file.
. Extracts paragraph alignment information.
· You may choose to convert all pages or specified pages.
· Supports drag and drop files.

If you need convert PDF to 3D flash Flipping Book, please see : 3DPageFlip Standard
Introduction to 3DPageFlip Standard:
--------------------------------------------------------------------------------------------------------------------------------------------------------------------
3DPageFlip Standard is a perfect tool to transform your PDF files format into realistic 3D page flip magazines. With 3DPageFlip Standard, You can create amazingly realistic 3D interactive magazines, catalogs, brochures, books or newspapers in minutes without any Flash/HTML or programming skills. And you can use your 3D Digital Brochure edition online, offline (on your PC, IPad etc), burn it to a CD/DVD or use it with an usb storage device.
The pages turn with the option of rolling the entire book in three dimensions, and this induces a feeling in users as if they are holding an actual book in their hands.
Use realistic 3D page flip magazines effect to promote your book, boost your book's sales or to demonstrate your book in realistic, visual 3D animation!