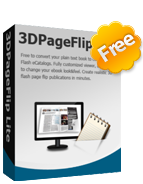 Freeware

3DPageFlip PDF to Html-
freeware
Free eBook Conversion tools to Convert PDF to HTML
Converts PDF file into one continuous html page;

Accurately preserves Text, Tables, Graphics & Layout;
Automatically links page numbers to all generated pages;
Supports drag and drop files and batch conversion;
Supports command line operation (for manual use or inclusion in scripts;
DownloadPDF to Flash
3DPageFlip PDF To HTML Converter is 100% free to convert PDF files to HTML files while seeking to preserve the original page layout (as best as technically possible). 3DPageFlip PDF To HTML Converter enables the conversion of layout originally designed for paper to be used on the Internet.
3DPageFlip PDF To HTML Converter software is a standalone program and does not require Adobe Acrobat, or even Acrobat Reader.
3DPageFlip PDF To HTML can be run via command line and has Windows desktop integration. But the advantage of Comfortable PDF to HTML is the well-thought interface. It's so easy to understand that even beginners find using it very comfortable.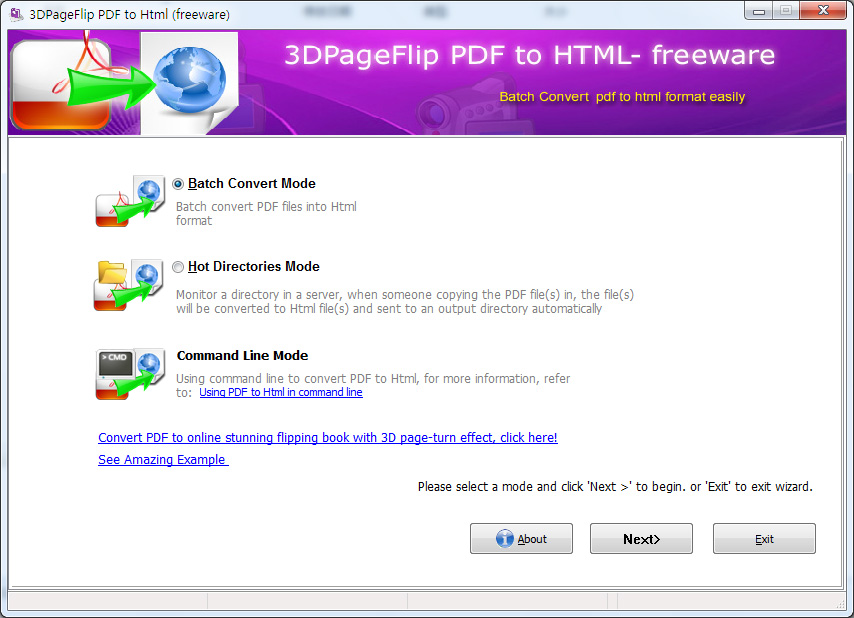 Features:
· Converts PDF file into one continuous html page;
· Does NOT need Adobe Acrobat software;
· Supports command line operation (for manual use or inclusion in scripts;
· Conversion of vector graphics into image files;
· Automatically links page numbers to all generated pages;
· Automatically resize pictures to fit frame borders;
· Converted files can be automatically loaded immediately after conversion complete;
· Optimize and scale HTML code for different screen resolutions;
· Accurately preserves Text, Tables, Graphics & Layout;
· Generates Navigation, Page Index Bars;
· Easy to use stand-alone application;
· Supports multiple document conversions (Batch Processing);
· Converts outer fonts into text and embedded fonts into images;
· Supports drag and drop files and batch conversion;
· Supports insert your Homepage URL into the navigation bar;
· Supports create monochrome and colorized JPEG file;
· Supports hyperlinks from PDF file to HTML file;

If you need convert PDF to 3D flash Flipping Book, please see : 3DPageFlip Standard
Introduction to 3DPageFlip Standard:
--------------------------------------------------------------------------------------------------------------------------------------------------------------------
3DPageFlip Standard is a perfect tool to transform your PDF files format into realistic 3D page flip magazines. With 3DPageFlip Standard, You can create amazingly realistic 3D interactive magazines, catalogs, brochures, books or newspapers in minutes without any Flash/HTML or programming skills. And you can use your 3D Digital Brochure edition online, offline (on your PC, IPad etc), burn it to a CD/DVD or use it with an usb storage device.
The pages turn with the option of rolling the entire book in three dimensions, and this induces a feeling in users as if they are holding an actual book in their hands.
Use realistic 3D page flip magazines effect to promote your book, boost your book's sales or to demonstrate your book in realistic, visual 3D animation!