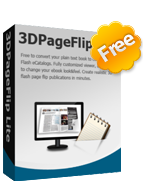 Freeware

Free PDF to Flash-
freeware
Freeware to Convert PDF to Flash Movie (.swf)
Support Batch convert you PDF Files into a Flash movie (.swf)
Support Command-line mode to freely coanvert PDF to Flash .
Support Convert PDF to Flash Using Watched Folders
Gives you a total solution to easily and effectively publish your PDF offline and online

Unlimited

conversions

without paying royalties.

Download
Full Version
Why Use?
Features
Screenshot
How It Works
3DPageFlip free PDF to Flash if a 100% free and rapid Adobe PDF document to Macromedia Flash (SWF) files converting solution for your applications and Websites. Support hot directory monitor and command line mode.
With 3DPageFlip Free PDF to Flash, you can Convert your PDF product catalog, magazine, ebook, brochure or publication into your online Flash-animated online virtual paper.

If you need convert PDF to page flip Book with 3D effect, please see our full version: 3DPageFlip Standard
Introduction to 3DPageFlip Standard:
--------------------------------------------------------------------------------------------------------------------------------------------------------------------
3DPageFlip Standard is a perfect digital magazine software to transform your PDF files format into realistic 3D page flip magazines. With 3DPageFlip Standard, You can create amazingly realistic 3D interactive magazines, catalogs, brochures, books or newspapers in minutes without any Flash/HTML or programming skills. And you can use your 3D Digital Brochure edition online, offline (on your PC, IPad etc), burn it to a CD/DVD or use it with an usb storage device.
The pages turn with the option of rolling the entire book in three dimensions, and this induces a feeling in users as if they are holding an actual book in their hands.
Use realistic 3D page flip magazines effect to promote your book, boost your book's sales or to demonstrate your book in realistic, visual 3D animation!
Publish Online and offline
3DPageFlip Standard is available for both PC and Mac, and can output 3D digital editions for online and offline.
Whether your readers are on a pc or Mac if they are online at work or offline on their journey home from work on the train; your publications can be viewed at anytime on their preferred device.
Rapid 3D Magazines Creation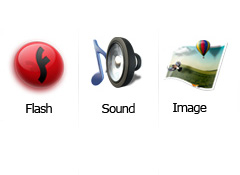 Turn PDF into online flash flip book with Realistic 3D page-turn effect, create amazingly realistic 3D interactive magazines, catalogs, brochures, books or newspapers in in minutes.
The software is easy and straightforward – you don't need to have any flash knowledge or programming skills – do everything just by import your PDF files, select a flippingbook template and output your flippingbook as SWF/EXE/ZIP foramt directly.
Full Customizable Settings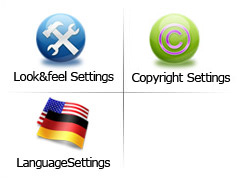 You can customize the toolbar, change colors, background, flip sounds, speed and much more – almost everything can be customized easily.
Give your customers a great reading experience with smart 3D camera that zooms easily with double-clicks.
LanguageSettings: Define your language for 3D magazines.
Copyright Settings: Define ebook title, logo, detail information, even HTML keywords, description and other metadata.
Free FlippingBook Templates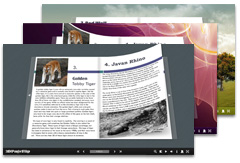 Multiple ready-to-use Flash flipping book templates in the digital magazine software for you to use. You can choose and make change based on your book style or your design requirement. You can do a lot of settings such as 3D eBook Tool bar color, backgrounds color and image for better displaying.
Publish Your Documents Everywhere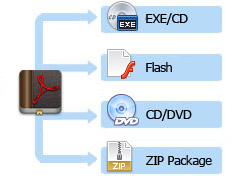 The output 3D digital editions book can be exported with following options:
Publish 3D digital editions as stand-alone EXE for CD delivery
Create online 3D digital editions for websites as Flash (SWF)
Create offline 3D digital editions publications for CD/DVD
Produce ZIP Package and email to your customers
3D PageFlip Standard Product Features
1.            Free convert PDF to Flash eBook with 3D page turning effect.
2.            Define quality and size for imported PDF pages.
3.            Apply a pre-designed template.
4.            Export and save settings or projects for future uses.
5.            Define book Title.
6.            Enable Auto Flip with setting Flip Interval.
7.            Set Flash buttons display language.
8.            Different kinds of render engine for choose, to avoid distortion for some special PDF files.
9.            Set option to use same user names for sharing on Twitter, FaceBook, Digg.
10.          Input Presenter information such as name, website address, Email and details info to show in About Window.
11.          Choose color for Tool Bar.
12.          Define logo to show on Tool Bar.
13.          Pre-set tilt angle while opening the eBook.
14.          Set background with pure/gradient color or image directly.
15.          Output to different formats: HTML, ZIP, EXE and Burn to CD.
•              HTML allows you to upload to a website to be viewed online (with title, keywords and other metadata defined).
•              EXE (with setting title, icon and open window size) and Zip allow you to send to your user by email to be viewed on their computer.
•              Burn to CD allows you to burn to disk so that you can send your user physical media for viewing on their computer.

Output 3D flash magazines Features
With the 3D flash flipping book you have created, your user will be able to:
1.            Click Page frame bar or navigational buttons to turn pages.
2.            View with important pages pre-loaded to open quickly, no need to wait for all pages to be loaded.
3.            Double-click or click zoom in/out button to zoom in or zoom out pages.
4.            Manually define Tilt Angle or wheel mouse to change angle to view eBook pages.
5.            Flip pages automatically.
6.            Turn page-turning sound on/off.
7.            View eBook detail information.
8.            Share eBook URL via Facebook, Twitter, Digg, etc.
9.            Print out the whole eBook or a selected range of pages.
10.          View page-flipping eBook in full screen.
11.          Open in the Browser to a specific page by adding a page index to your URL.
                E.G.www.yourdomain.com/index.html?p=4.

Here are some screenshots of 3D PageFlip Standard below: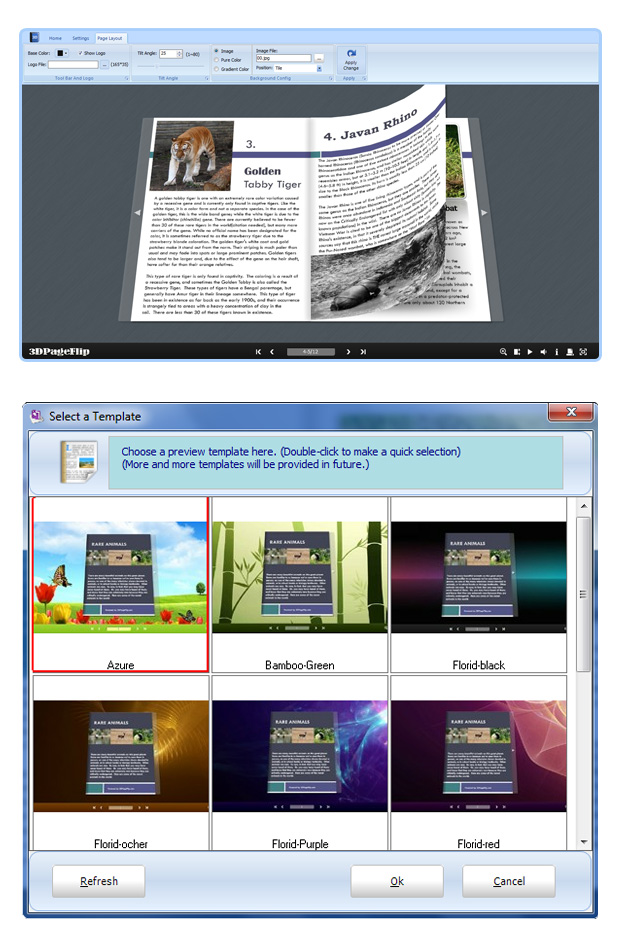 Three steps to create flash flip eBooks from PDF (3DPageFlip Standard)