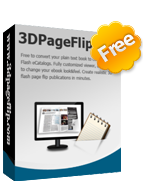 Freeware

3DPageFlip PDF to Flash Magazine
Free

PDF to Flash Magazine Converter to build wonderful slideshow and animated flash effect from PDF!
Convert PDF to flash magazine with slideshow flip page!

Support to record audio for background sound.
Simple but useful editor rich PDF page: add text, line, rectangle, oval, high light, etc.
Support Auto-Play and automatically transition effect for flash page.
Settings for detailed company or personal info: logo, website, email, description.
Support to add references and attachment for published flash e-magazine.
If you need to convert PDF to Cool flipbook with 3D panoramic effect, page flip effect, 3D Sphere Gallery, 3D spin video, ect, you can try 3D PageFlip Professional.

Free Trial
PDF to Flash
Flash Player 10.0+
Free 3DPageFlip PDF to Flash Magazine is an easy-to-use converter for building flash slideshow magazine from PDF with multimedia content and fantastic transition effect! The flash e-magazine creator is designed for digital book lovers, media professionals, presenters, marketers, publishers, media agencies and web designers by being very easy, convenient to use. With Free 3DPageFlip PDF to Flash Magazine, you can publish a PDF flash magazine online and offline for personal or commercial use with rich author information, useful references and attachment as resources for readers to get. You can auto play the flash show slide by slide with commentary audio going synchronously.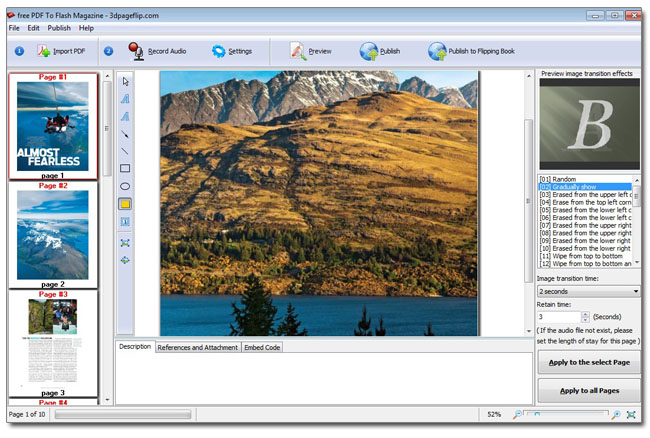 With the friendly flash magazine, readers can easily control the showing process. For example, click thumbnail to view each flash page or choose outline to get an overview. Use the tool bar to control sound volume, play or stop slideshow, jump to next page, show author information and show flash e-magazine in full screen. On the right top, readers can click attachments to access the additional content simply!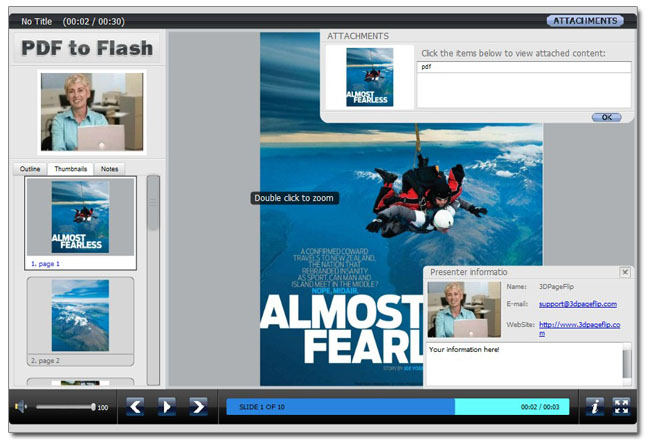 Full customize features for 3DPageFlip PDF to Flash Magazine:
Preview and Set Image transition effects
In this part, you can set a transition effect for individual pages, as well as adjusting the length of time before flipping to the next page. Make sure to pay attention to your Page Range when adjusting these settings. You can apply the current transition effect to select page or apply to all pages.
Simple Editor for PDF page
In 3DPageFlip PDF to Flash Magazine, you are enable to add font, line, rectangle, oval, high light, and sequence. Easily modify original PDF content at a short time! More and more, you can change font style, size, color as well as change the color of other inserted objects.
Record background audio easily
Make sure you have installed audio device. Then just click start record to create your own audio. If you have exited audio, you can use it via "Import Audio".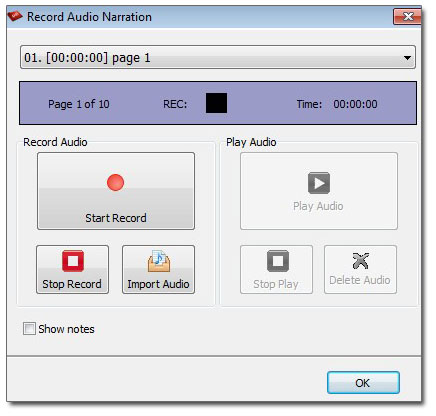 Settings for detailed information
The info settings are comprehensive, including company logo part, presenter part, and template part. You can display your logo image, website URL, name, email, description, photo to the flash magazine publication. You can define which part to show or hide in the e-magazine!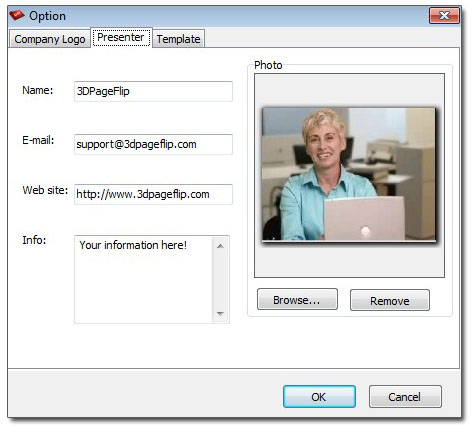 Add attachment and references for digital magazine
You can choose an existed file from computer as attachment or display a URL for reference. That is the additional function to help you present digital information online and offline.
If you need convert PDF to 3D flash Flipping Book, please see: 3D PageFlip Professional or 3D PageFlip Standard
Introduction to 3D PageFlip Professional:
--------------------------------------------------------------------------------------------------------------------------------------------------------------------
3D PageFlip Professional is a comprehensive creator to convert PDF to flash flip eBook with 3D effect and multimedia content. The fantastic feature of the eBook is its 3D Look and realistic eBook look! Users can easily edit eBook page by inserting links, buttons, flash, images, etc, as rich and interactive content! Moreover, users can create 3D Model for their objects easily in this flipbook software. For example, you can create 360 degree spinning product to show an object fully. You can insert 3D Sphere Gallery for pictures to offer others a visual feast! 3D eBook is not only a page flip book for reading, but also a delicate exhibit as 3D e-magazine, 3D e-brochure, 3D e-catalog to show people the most fantastic 3D digital content!
Download