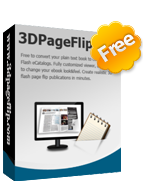 Freeware

3DPageFlip PDF to Flash Flipbook Converter -
Freeware
Turn PDF to stunning flash flipbook with ease!
Convert or batch convert PDF to flash flipbook with interactive effect!

Customizable template and full design settings to build attractive flip books quickly.
Powerful reading support function: text searchable, fullscreen, thumbnail, bookmark, link available, auto flip, etc.
Support to define language and security for output flash flipbook.
Publish for Web, PC, iPad, iPhone, or Android mobile devices, CD, or Zip for Email.
If you need to convert PDF to Cool flipbook with 3D panoramic effect, page flip effect, 3D Sphere Gallery, 3D spin video, ect, you can try 3D PageFlip Professional.

Free Trial
PDF to Flash
Free PDF to Flash Flipbook Converter is 100% free flipbook software that allows you to convert PDF documents into Flash flip publications. It's the ideal solution for those who wish to embed a flipbook, e-magazine, e-gallery, e-catalog, digital portfolio or any other kind of eBook document into a website for online sharing or those who want to share it via other channels like email or other digital storage! Also, it is a great designer which will bring you flash slide effect and template with double flash background, It offers you lots of design settings to perfect the flash flip eBook, including buttons, tool bar, background music, background image, flash book language, security, etc!
Why convert PDF to Flash flip book?
PDF files, short for portable document format, are widely used in private life, study, office and commercial circle. However, PDF documents need specific readers like Foxit or Adobe readers. Through PDF can contain text, images, tables, links, graphics etc, you may still feel that it's not flexible enough for representing your reference, attachment or inspirations and thought vividly. Actually, a simple PDF to flash flipbook tool will help you somehow to make your PDF more attractive and presentable.
Convert PDF to Flash flip book, you will get benefits as below:
Make PDF More Accessible to Others
It will help to broad PDF reading channels since it can not only be viewed with PDF viewer or PDF reader. After conversion, the converted flash eBook can be viewed via most of the web browsers without installing anything.
EBook with Flip Effect Will Bring More Fun to Reading
The flash digital book, which behaves like a realistic paper book, looks more stunning leaving readers a fresh and enjoyable experience will cause readers reading interest. People will prefer to read a vivid flash flipbook instead of stuff PDF!
Share with Others Easily
Since the free flash flipbook creator has different publish type. It supports to spread the digital book online and offline for sharing. You can publish it as HTML to upload it on your own website! You can convert it to EXE flipbook as a standalone application for reading on PC. You can even make it available for ePub, iPad, iPhone, or other android device!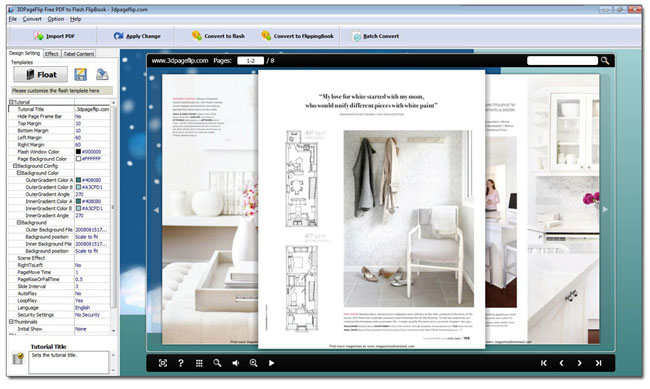 If you need convert PDF to 3D flash Flipping Book, please see: 3D PageFlip Professional or 3D PageFlip Standard
Introduction to 3D PageFlip Professional:
--------------------------------------------------------------------------------------------------------------------------------------------------------------------
3D PageFlip Professional is a comprehensive creator to convert PDF to flash flip eBook with 3D effect and multimedia content. The fantastic feature of the eBook is its 3D Look and realistic eBook look! Users can easily edit eBook page by inserting links, buttons, flash, images, etc, as rich and interactive content! Moreover, users can create 3D Model for their objects easily in this flipbook software. For example, you can create 360 degree spinning product to show an object fully. You can insert 3D Sphere Gallery for pictures to offer others a visual feast! 3D eBook is not only a page flip book for reading, but also a delicate exhibit as 3D e-magazine, 3D e-brochure, 3D e-catalog to show people the most fantastic 3D digital content!
Download