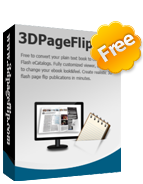 Freeware

Free 3DPageFlip PDF to Flash eBook Creator -
Freeware
A totally free converter to transfer Adobe PDF files to digital SWF file as flash eBook!
Free PDF to flash converter to turn PDF to flash eBook efficiently.

Support batch convert via import a folder of PDF files.
Automating the PDF to flash process by a simple click!
Concise interface for easy handle!
Stand-alone converter without installing additional software!
If you need to convert PDF to Cool flipbook with 3D panoramic effect, page flip effect, 3D Sphere Gallery, 3D spin video, ect, you can try 3D PageFlip Professional.

Free Trial
PDF to Flash
Free 3DPageFlip PDF to Flash eBook Creator is professional and effective software offers a solution for users to convert one or more PDF files to high quality SWF files directly, accurately and quickly. It will help you preserve the original text, link, image and layout in PDF file in order to keep the output flash eBook the same as the original PDF documents!  Its nice output SWF with all layout, format and graphic well maintained will keep your work simple and easy! The import panel also supports to remove selected file or clear up all imported PDF while you add the wrong one! The output flash book supports to zoom in and out to view page. A control panel is on the top and you are allowed to read in fullscreen as well! The SWF format will improve the online readability for you!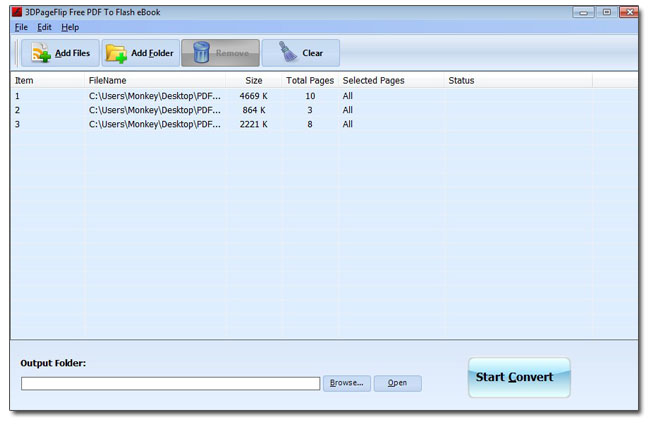 Why we convert PDF to SWF?
Converting PDF to SWF will enhance accessibility of PDF files and will bring Reading Convenience to you! SWF Flash format files are used by Macromedia Flash player, a plugin that is usually installed in web browsers and enables users to view the media without extra software. SWF allows streaming which enables your PDF content to display through any browser smoothly. With SWF, you can publish online to get attention from more people in the world!
If you need convert PDF to 3D flash Flipping Book, please see: 3D PageFlip Professional or 3D PageFlip Standard
Introduction to 3D PageFlip Professional:
--------------------------------------------------------------------------------------------------------------------------------------------------------------------
3D PageFlip Professional is a comprehensive creator to convert PDF to flash flip eBook with 3D effect and multimedia content. The fantastic feature of the eBook is its 3D Look and realistic eBook look! Users can easily edit eBook page by inserting links, buttons, flash, images, etc, as rich and interactive content! Moreover, users can create 3D Model for their objects easily in this flipbook software. For example, you can create 360 degree spinning product to show an object fully. You can insert 3D Sphere Gallery for pictures to offer others a visual feast! 3D eBook is not only a page flip book for reading, but also a delicate exhibit as 3D e-magazine, 3D e-brochure, 3D e-catalog to show people the most fantastic 3D digital content!
Download