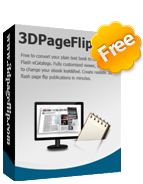 Freeware

3DPageFlip PDF to ePub Converter
100% Free

converter to batch converts PDF to ePub Book for easily reading on computer, iPad, iPhone, iPod touch, etc!
Support batch convert PDF to ePub.

Support to transfer PDF to ePub by watching defined folders.
Support to use command line for ePub batch conversion.
User-friendly interface and high speed for conversion.
Produce nice result preserving the formatting and layout of the content.
If you need to convert PDF to Cool flipbook with 3D panoramic effect, page flip effect, 3D Sphere Gallery, 3D spin video, ect, you can try 3D PageFlip Professional.

Free Trial
PDF to Flash
Free 3DPageFlip PDF to ePub Converter enables you to convert your PDF files to ePub file easily and quickly. You are available to read ePub Books more easily on your computer, iPad, iPhone, iPod touch, Sony Reader, Nook Color, Nook Tablet, Kobo, or other eBook Readers. As we know, ePub format is known by most eBook readers. It is an open standard for ebook files for access on many devices that are mentioned above. With Free 3DPageFlip PDF to ePub Converter, you will easily get ePub eBook from PDF and make your PDF content readable on more platform. In addition, the best PDF to ePub Conversion program supports batch conversion, very simple settings. And the user-friendly interface of the software makes the operation quite easy for both beginners and advanced users. If you need watch folder process for the ePub conversion, you tick the Hot Directory Mode as well! This is the optional delivery method for converting PDF to ePub automatically. Furthermore, the command line option is offered in the software for quick start up the converter. For convenience, the guider text of how to using command line will help you once you know nothing about it!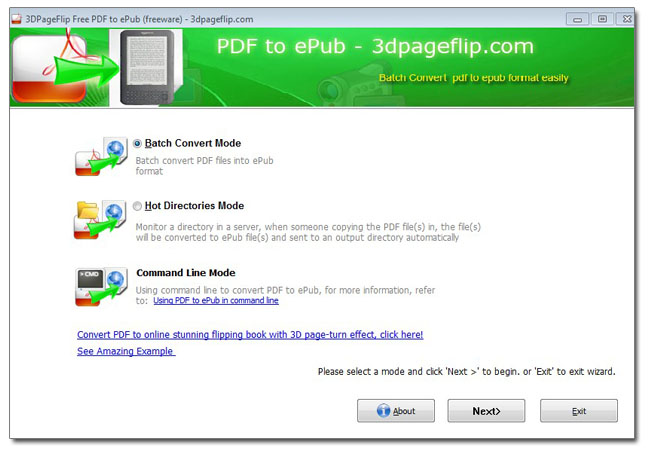 Feature of 3DPageFlip PDF to ePub Converter:

1. Output ePub books from PDF for various devices
After converting PDF to ePub eBooks with the 3DPageFlip PDF to ePub Converter, by copying the output ePub file to your iPhone, iPod touch, Apple iPad, Adobe Digital Editions, Lexcycle Stanza, etc., you can easily read the PDF contents on your eBook Readers.

2. Provides 3 conversion modes
There are three conversion modes in the software. They are Batch Convert, Hot Directory, Command Line.
Batch Convert: The PDF to ePub Converter enables you to convert several PDF files to ePub with only one conversion. It supports to select a number of PDF files at once or select an entire folder for quick conversion. Then click "Convert" to choose the output path and you will batch create ePub books!
Hot Directory: In this mode, you need to define two folders. One is for input PDF and the other is for output ePub. With the defined folders, the conversion will be implemented while you drag PDF to the input folder. Then ePub files will delivery in the output folder automatically! Fast and easy for anyone!
Command Line: This method is designed to the one who is used to launch application via command line. It will help you batch convert PDF documents to ePub as well as the batch convert mode!

3. Good to deal with huge conversion workload with fast processing speed.
4. Simple but friendly interface for anyone.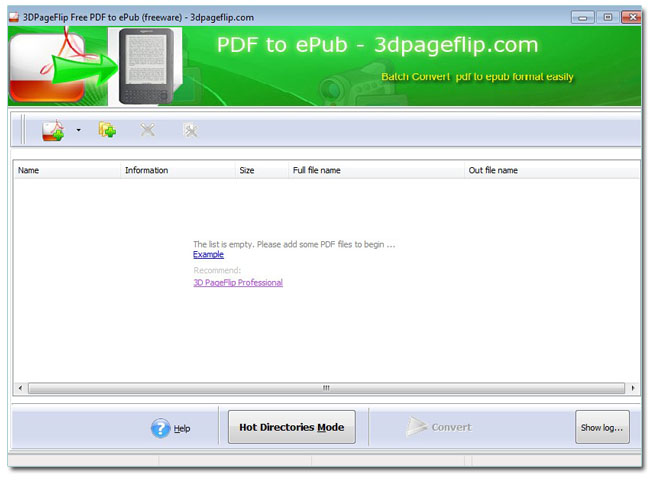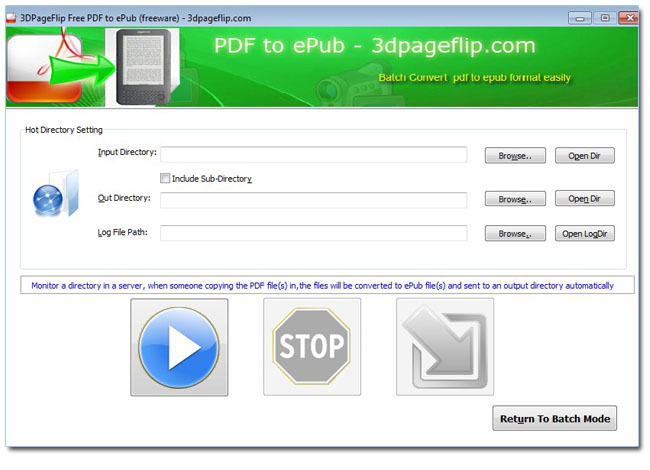 Introduction to 3D PageFlip Professional:
--------------------------------------------------------------------------------------------------------------------------------------------------------------------
3D PageFlip Professional is a comprehensive creator to convert PDF to flash flip eBook with 3D effect and multimedia content. The fantastic feature of the eBook is its 3D Look and realistic eBook look! Users can easily edit eBook page by inserting links, buttons, flash, images, etc, as rich and interactive content! Moreover, users can create 3D Model for their objects easily in this flipbook software. For example, you can create 360 degree spinning product to show an object fully. You can insert 3D Sphere Gallery for pictures to offer others a visual feast! 3D eBook is not only a page flip book for reading, but also a delicate exhibit as 3D e-magazine, 3D e-brochure, 3D e-catalog to show people the most fantastic 3D digital content!
Download