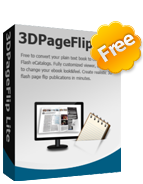 Freeware

3DPageFlip PDF Creator-
freeware
Free to Print to PDF eBook from Almost any Windows Program
Preserve hyperlinks in Microsoft Word and PowerPoint.

Watermark text, size, rotation, and transparency.
Support PDF eBook Security.
Possibility to set the title, subject, author, keywords for the PDF
Create PDF eBook file to an N-up Layout.

Download
PDF to Flash
3DPageFlip PDF Creator is a 100% free PDF eBook creator tool to create PDF files from any Windows application running on Windows 7, Windows Vista, Windows NT (SP3+), Windows 2000, Windows XP and Windows Server 2008/2003/2000. The PDF creation products install themselves as print drivers, all you have to do is to click "Print" from your application to create PDF eBook files.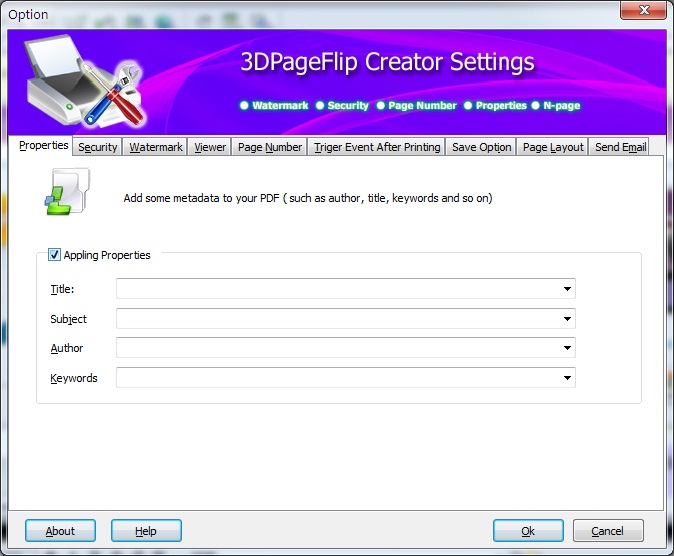 Features:
A Free PDF Printer
3DPageFlip PDF Creator is a free PDF printer. It works as a free virtual printer, so, you can "print" any printable Windows applications to PDF format.
Professional and Free PDF Creator
This excellent free PDF eBook Creator will create professional and high quality PDF files from Word / Excel / PPT / Images / HTML and other printable documents, as 3DPageFlip PDF Creator supports PDF/A format which is widely used for long-term archiving of electronic documents and embedded font .
Secure PDF Documents with Strong Encryption
Though it is a free PDF eBook creator, 3DPageFlip PDF Creator supports strong 128bit encryption and allows you to set both Owner Password and User Password to protect your PDF documents against from breach.
Support PDF Watermark
Using 3DPageFlip PDF Creator you can stamp\watermark a PDF
with custom text or an image and apply transparency, rotation, opacity, color variation or other effects.
Colour and Size:
PDF files enable sharp, colour-precise printing on most printers with precise onscreen colour match regardless of monitor brand. Users can magnify documents up to 800% without the loss of clarity in text or graphics. PDF files can be optimized and are often smaller than conventional document formats.
If you need convert PDF to 3D flash Flipping Book, please see : 3DPageFlip Standard
Introduction to 3DPageFlip Standard:
--------------------------------------------------------------------------------------------------------------------------------------------------------------------
3DPageFlip Standard is a perfect tool to transform your PDF files format into realistic 3D page flip magazines. With 3DPageFlip Standard, You can create amazingly realistic 3D interactive magazines, catalogs, brochures, books or newspapers in minutes without any Flash/HTML or programming skills. And you can use your 3D Digital Brochure edition online, offline (on your PC, IPad etc), burn it to a CD/DVD or use it with an usb storage device.
The pages turn with the option of rolling the entire book in three dimensions, and this induces a feeling in users as if they are holding an actual book in their hands.
Use realistic 3D page flip magazines effect to promote your book, boost your book's sales or to demonstrate your book in realistic, visual 3D animation!