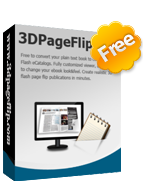 Freeware

3DPageFlip Paper Flip Maker
Freeware

– Effective tool to convert TXT to paper flip book with comprehensive design settings!
Excellent converter for TXT to flash paper flip book with animation effect.

Comprehensive Design Settings and Templates for full customization.
Multiple PDF to Paper Flip Book Output Choices for publishing online and offline.
Awesome Reading Experience and Convenient Reading Support.
If you need to convert PDF to Cool flipbook with 3D panoramic effect, page flip effect, 3D Sphere Gallery, 3D spin video, ect, you can try 3D PageFlip Professional.

Free Trial
PDF to Flash
The paper flip maker, which is 100% free, can convert your TXT thesis, magazine, shopping brochures, presentation to flip paper with page turning effect. It is an easy way to make your original insipid txt files to vivid flip paper eBook and get realistic reading experience from the output true page turn eBook. Compared with traditional files, paper flip maker will publish eBook which is easier to preserve and organize. You can also easier to publish it online and offline for quick reading! The pretty tool makes the contents perfectly preserved as high-fidelity vector output flash files! It is simple to use and really a good choice for business presentation and speech. Let your readers enjoy new experience of flipping effect.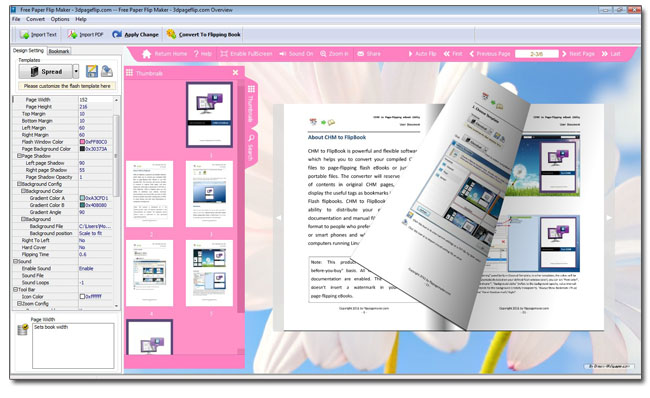 Comprehensive Design Settings and Templates
Three templates for selecting and designing: Float, Spread, Neat, Classical.
Background settings with image, pure color, gradient color, etc.
Define top, bottom, left, right Margin of paper flip book.
Define language: make the output eBook readable for local readers!
Set flip speed: Customize the flipping time if you would like to make it to turn pages faster or slower.
Set home page URL: make your flash flipbook links with company website or personal blog.
Multiple PDF to Paper Flip Book Output Choices
Three paper flash flip book output types: HTML, ZIP, EXE.
Burn to CD for freely sharing.
Awesome Reading Experience and Convenient Reading Support
Print: You can print all pages, current pages, or several pages (you can set print range).
Searchable content: overall search in flip book, highlight color and search characters are customized.
Control background sound, overview thumbnail!
Introduction to 3D PageFlip Professional:
--------------------------------------------------------------------------------------------------------------------------------------------------------------------
3D PageFlip Professional is a comprehensive creator to convert PDF to flash flip eBook with 3D effect and multimedia content. The fantastic feature of the eBook is its 3D Look and realistic eBook look! Users can easily edit eBook page by inserting links, buttons, flash, images, etc, as rich and interactive content! Moreover, users can create 3D Model for their objects easily in this flipbook software. For example, you can create 360 degree spinning product to show an object fully. You can insert 3D Sphere Gallery for pictures to offer others a visual feast! 3D eBook is not only a page flip book for reading, but also a delicate exhibit as 3D e-magazine, 3D e-brochure, 3D e-catalog to show people the most fantastic 3D digital content!
Download