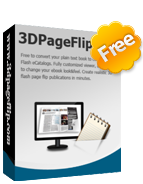 Freeware

3DPageFlip Free Page Turning Software
Freeware

- Wonderful magazine maker to create awesome page turning publication based on Flash technology
Basic page turning conversion features without any royalties
Freely edit unique Flash book with software
Transcend traditional reading experience with more fun
Multiple output formats for different purposes
If you need to convert PDF to Cool flipbook with 3D panoramic effect, page flip effect, 3D Sphere Gallery, 3D spin video, ect, you can try 3D PageFlip Professional.

Free Trial
PDF to Flash
3DPageFlip Free Page Turning Software, released by 3DPageFlip, is a free converter to build stunning flash page flipping magazine, catalog easily. This utility free application provides fully functional tools which will help you design the unique template with plenty of colors, backgrounds, sounds, fonts, buttons, and much more. When you are designing a free flip book, the final result can be previewed via the preview window. It can not be more easier to produce a page turning book.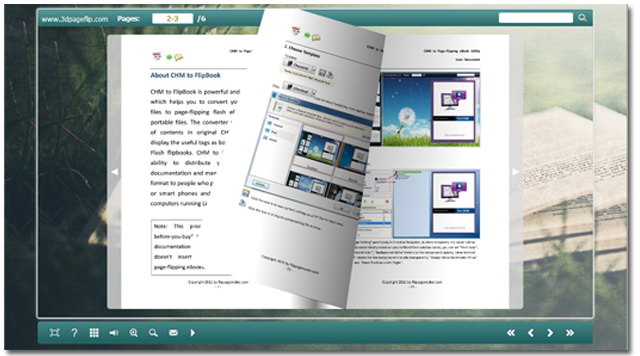 Free is Always Good

3DPageFlip Free Page Turning Software is 100% free guaranteed, authorized by 3D PageFlip company. It provides rich features to satisfy the basic need of Flash page flipping book conversion. There is with no limitation on file size and file number, and more, you can enjoy the free upgrade once the latest version is newly-released.
Edit Flip Book All by Yourself
The day has gone when a good digital magazine editor should be of good knowledge of programming skill and design inspiration. This free page turning software is developed as point-and-shoot so that everyone can with ease finish conversion even for a beginner. Actually, with this flip book maker, everyone is a good designer with some business smarts.
Brand-new Reading Habit
3DPageFlip Free Page Turning Software helps take them off, that the pressure of researching information from big magazines and pressure of getting information from a plain tedious document. Unlike any traditional reading technology, this one provides a relaxing reading condition. Reading habit would be changed from traditional format to technological modern for better reading.
Introduction to 3D PageFlip Professional:
--------------------------------------------------------------------------------------------------------------------------------------------------------------------
3D PageFlip Professional is a comprehensive creator to convert PDF to flash flip eBook with 3D effect and multimedia content. The fantastic feature of the eBook is its 3D Look and realistic eBook look! Users can easily edit eBook page by inserting links, buttons, flash, images, etc, as rich and interactive content! Moreover, users can create 3D Model for their objects easily in this flipbook software. For example, you can create 360 degree spinning product to show an object fully. You can insert 3D Sphere Gallery for pictures to offer others a visual feast! 3D eBook is not only a page flip book for reading, but also a delicate exhibit as 3D e-magazine, 3D e-brochure, 3D e-catalog to show people the most fantastic 3D digital content!
Download