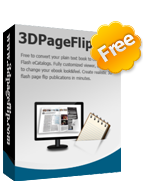 Freeware

Free 3DPageFlip OCR Converter
100% Free

OCR software to help you transfer scanned image to editable text with ease!
Recognize and extractor text, characters from images, photographs and un-editable documents.

Support batch convert all popular images formats (TIF, GIF, JPG, PCX, BMP, ICO, CUR, PNG, etc.) to text.
Enable to edit extracted text: select all, cut, copy, paste, and change the font size.
Support to view original image and converted text side by side.
Support batch OCR a list of images.
If you need to convert PDF to Cool flipbook with 3D panoramic effect, page flip effect, 3D Sphere Gallery, 3D spin video, ect, you can try 3D PageFlip Professional.

Free Trial
PDF to Flash
Free 3DPageFlip OCR Converter is a free OCR converter that helps you to recognize and extractor text, characters from images, photographs and digital camera captured images. It assistant you to recognize character from images and then convert it to text which turns scanned images into editable documents. Simply import your image files, including all formats like TIF, GIF, JPG, PCX, BMP, ICO, CUR, PNG, DCM, WMF, EMF, TGA, PXM, WBMP, JP2, J2K, DCX, CRW, PSD, IEV, LYR, etc. Then the OCR program will process your file for any editable text and will send the results back to you, which you can save the processed text as TXT file or ZIP file or copy & past in your own word document.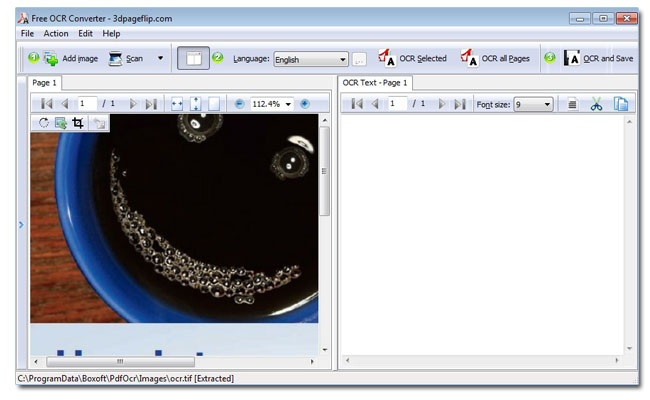 What will OCR Converter help you?
OCR is a technology that extracts the text from an image or a scanned document so that it can be edited, formatted, searched, indexed, automatically translated or converted to speech. A To-Text OCR Converter stands for optical character recognition. OCR can be used to recognize text from images and convert books and documents into electronic format and to automate various business processes instead of retyping. Just scan and OCR and you will easily convert images containing written characters to text documents with no need for any third software installation.
Benefits from Free 3DPageFlip OCR Converter:
3DPageFlip OCR Converter is totally free without a need for registration or providing personal data. You will save valuable time sent on tiresome re-typing, at the same time get precise image to text conversion. This software tool is typically helpful for people writing technical or audit documentation, scientific papers or other documents, as they don't need to retype manually information from every source or image documents they use. All in all, 3DPageFlip OCR Converter is 100% free of charge but powerful Optical Character Recognition application capable of turning scanned paper documents and digital photographs into editable and searchable text files.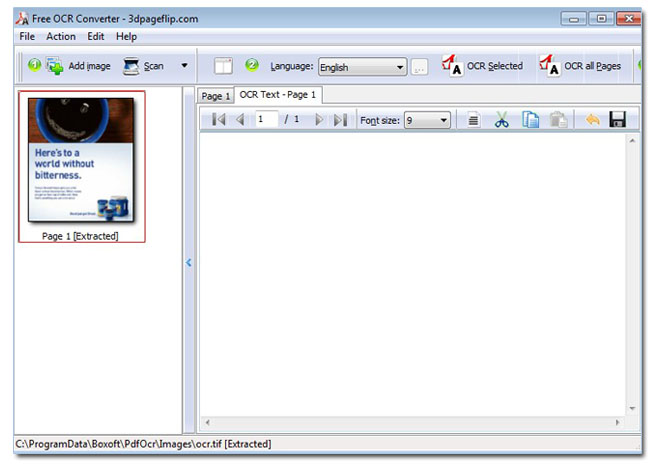 Introduction to 3D PageFlip Professional:
--------------------------------------------------------------------------------------------------------------------------------------------------------------------
3D PageFlip Professional is a comprehensive creator to convert PDF to flash flip eBook with 3D effect and multimedia content. The fantastic feature of the eBook is its 3D Look and realistic eBook look! Users can easily edit eBook page by inserting links, buttons, flash, images, etc, as rich and interactive content! Moreover, users can create 3D Model for their objects easily in this flipbook software. For example, you can create 360 degree spinning product to show an object fully. You can insert 3D Sphere Gallery for pictures to offer others a visual feast! 3D eBook is not only a page flip book for reading, but also a delicate exhibit as 3D e-magazine, 3D e-brochure, 3D e-catalog to show people the most fantastic 3D digital content!
Download