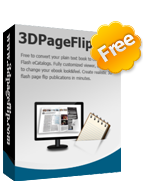 Freeware

Free 3DPageFlip Image to PDF Converter -
Freeware
Free tool to batch convert images to PDF instantly with ease!
Several delivery methods for choosing: build in one PDF or multiple PDFs.

All image formats are support to convert, like TIF, PNG, PCX, GIF, JPG, PSD, JP2, , etc.
Support simple image editing and modifying: contrast, brightness, angles, sharp, etc.
Support to drag and drop images to the freeware to turn into PDF directly.
Support to reorder images by simple click or drag.
No limited for file quantity and file size.
If you need to convert PDF to Cool flipbook with 3D panoramic effect, page flip effect, 3D Sphere Gallery, 3D spin video, ect, you can try 3D PageFlip Professional.

Free Trial
PDF to Flash
Free 3DPageFlip Image to PDF Converter, a quick and easy-to-use PDF utility that is designed to batch convert image files to PDF document, makes it possible for anyone to instantly convert many kinds of images (all image format like TIF, BMP, PNG, PCX, GIF, JPG, PSD, JP2, J2K, etc) to PDF document. Not like the online converter, it will have no limited for your converting image file quantity and size. Just select your output method like build to one PDF or build to multiple PDF and then click convert. Then you will get the finial graphic PDF document at once! With 3DPageFlip Image to PDF Converter, storing all your pictures in a PDF (Portable Document Format) file become an easy way to view, print or share with your friends. The functions are well represented and placed, while the variety of supported image formats is quite impressive.
Powerful Advantages for Free 3DPageFlip Image to PDF Converter:
• Easy to use – you just need A couple of clicks to finish PDF converting. In addition, it supports you to drag and drop image files to the software list page and reorder the pictures! Or you can use the button to add, remove, the pictures as well as dragging and dropping.
• Free to install and use – This is 100% free image to PDF converter to download, install and use and no extra fee is needed, You can build wonderful PDF freely from any pictures, images, photos as you like.
• Support all image formats, including JPG, TIF, BMP, PNG, PCX, GIF, PSD, ICO, WMF, EMF, TGA, CRW, DCX, JP2, IEV, etc. You would save lots of time by converting images to a suitable format.
• Edit function – after you import pictures to the converter, you can take a simple edit for your images. For example, you can rotate the pictures at any angle. You can crop image at any size. Or change its contrast and brightness. You can simply to beautify your pictures and convert to PDF files.
• Rich converted type for selecting: you can merge pictures to one PDF or build it to multiple PDF separately. Furthermore, you can choose one existed PDF and insert the pictures as PDF page to before or after the current page. There are more other delivery methods for you to choose: Build to One PDF and Email, Build to One PDF and FTP, Build selected to PDF, Export to Images, Build to Multi-Page TIFF, etc.
• Support to zoom in and out the graphics for certain view.
• Standalone application - Capable to effectively perform without any third party program.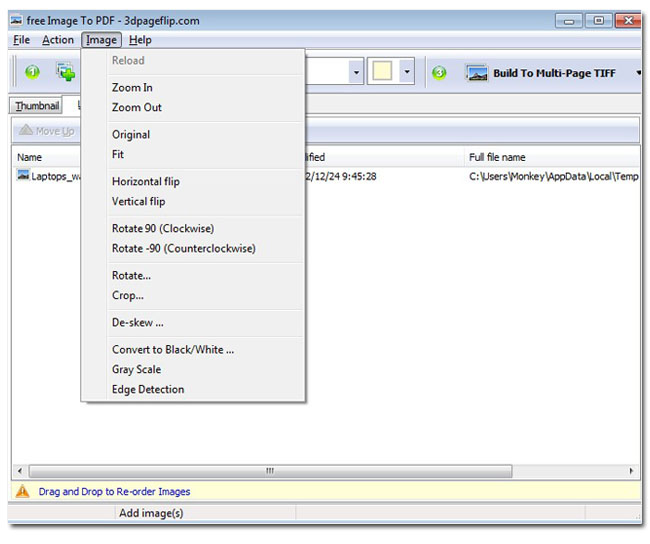 Introduction to 3D PageFlip Professional:
--------------------------------------------------------------------------------------------------------------------------------------------------------------------
3D PageFlip Professional is a comprehensive creator to convert PDF to flash flip eBook with 3D effect and multimedia content. The fantastic feature of the eBook is its 3D Look and realistic eBook look! Users can easily edit eBook page by inserting links, buttons, flash, images, etc, as rich and interactive content! Moreover, users can create 3D Model for their objects easily in this flipbook software. For example, you can create 360 degree spinning product to show an object fully. You can insert 3D Sphere Gallery for pictures to offer others a visual feast! 3D eBook is not only a page flip book for reading, but also a delicate exhibit as 3D e-magazine, 3D e-brochure, 3D e-catalog to show people the most fantastic 3D digital content!
Download