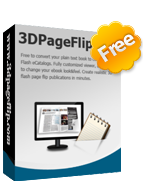 Freeware

3DPageFlip Image Converter
Totally
Free

tool to convert images between different formats!
Convert images of any size to png, bmp, gif, ico, jpg, jp2, pcx, tga, tif, etc.

Support Batch image conversion.
Support to watch the defined folders to implement image conversion automatically.
Support command line graphic batch convert.
Rotate, compress, digital photos, re-define color and resize images (also in batch).
Support to transfer between images batch convert mode and image watch folder conversion mode.
If you need to convert PDF to Cool flipbook with 3D panoramic effect, page flip effect, 3D Sphere Gallery, 3D spin video, ect, you can try 3D PageFlip Professional.

Free Trial
PDF to Flash
3DPageFlip Image Converter freeware is graphic transfer program that allow you to convert a wide range of image file formats. It's a simple yet powerful tool for easy handle. Just download and have a quick install and you can begin your image conversion. The free image converter offers three modes for different image conversion. You can use image Batch Convert Mode, Hot Directory for picture conversion, Command Line as the professional resolution to change graphics formats. It supports png, bmp, gif, ico, jpg, jp2, pcx, tga, tif, etc.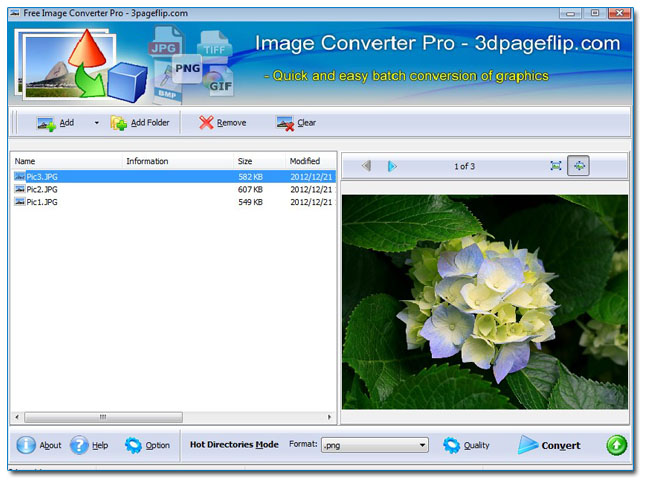 The image converter freeware support to convert png, bmp, gif, ico, jpg, jp2, pcx, tga, tif to png, bmp, gif, ico, jpg, jp2, pcx, tga, tif, etc.
PNG - Portable Network Graphics
BMP - Microsoft Windows Bitmap
GIF - CompuServe Graphics Interchange Format
ICO - Computer Icons in Microsoft Windows
JPG or JP2 - Joint Photographic Experts Group JFIF format
PCX - IBM PC Paintbrush File
TGA - Truevision Targa Image
TIF –Tagged Image File Format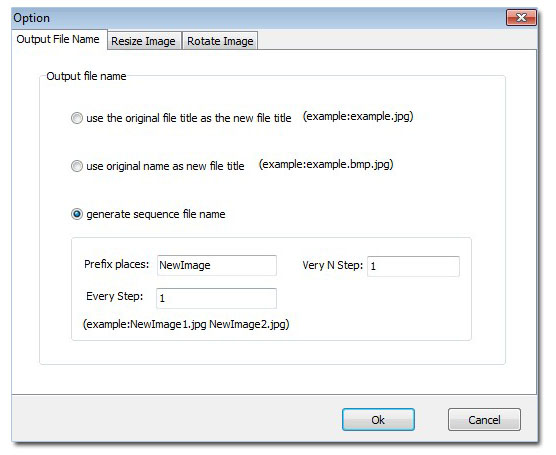 Option:
Option setting in 3DPageFlip Image Converter is to define output file name. This is a quick way to generate sequence file name for the converted images. You can use the original file title or original name as new file name. All these settings are personalized for image conversion. In addition, you can crop images to selected size or shrink or enlarge them. There is a resample filter for free using as well! More and more, you can tick "Flip image" in "Rotate Image" tab to set direction for your output images. The easy one-click process makes it perfect to converting your image files and digital photos for any posting, sharing, emailing.
Quality:
This is an alternative option to set color, size for all output images. You can choose the option from the relative column. Then you can overview the rendering from the window.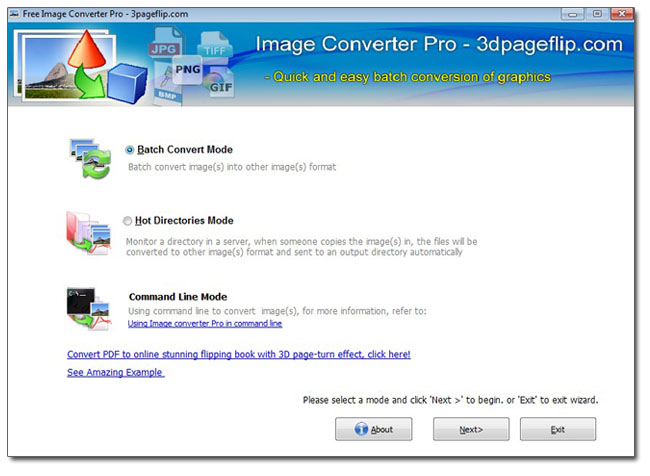 Batch Convert mode:
If you need to convert a jpg file into bmp, use the Add button to select the source JPG file on your local PC, select the output format to "bmp". Set the quality for the output image, like resizing the images uniformly. You can even define images effect like rotating images. It supports to overview the output effect before conversion. At last you can click the Convert button. It will be done after all.
Hot Directory mode:
Define image input directory and output directory from the "Hot Directory" settings. You can save the log file as well as the converted images and keep up with the picture conversion process. Then it will monitor a directory in a server. When someone copies the images in, the files will be converted to other images format and sent to the output folder automatically.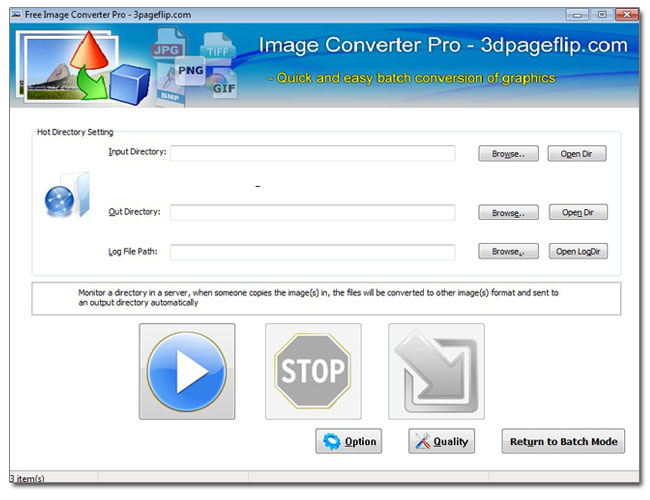 Command line mode:
The function is designed for those who are more familiar with command line operating. It's a good way to improve work efficiency.
Introduction to 3D PageFlip Professional:
--------------------------------------------------------------------------------------------------------------------------------------------------------------------
3D PageFlip Professional is a comprehensive creator to convert PDF to flash flip eBook with 3D effect and multimedia content. The fantastic feature of the eBook is its 3D Look and realistic eBook look! Users can easily edit eBook page by inserting links, buttons, flash, images, etc, as rich and interactive content! Moreover, users can create 3D Model for their objects easily in this flipbook software. For example, you can create 360 degree spinning product to show an object fully. You can insert 3D Sphere Gallery for pictures to offer others a visual feast! 3D eBook is not only a page flip book for reading, but also a delicate exhibit as 3D e-magazine, 3D e-brochure, 3D e-catalog to show people the most fantastic 3D digital content!
Download