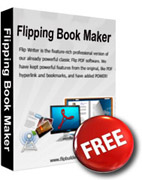 Freeware

Free Flipping Book Maker
Professional eBook software for free
Change your word file into a flipping book.

Publish your eBook online and give your reader a special view experience.
Friendly interface for you to design flipping books.
Share your flipping book with your friends through the software.
100% free software with powerful function.

Download
PDF to Flash
Flipping Book Maker is a kind of software which can help you create eBooks with several formats, for example, you can publish your flipping book online with the HTML format. It bring convenient to you since you don't have to take much time to learn how to use the software. You can convert your txt documents into a flipping book with simple operating process.
There is the detailed introduction about the Flipping Book Maker below. Get close to the Flipping Book Maker and you will know more knowledge of the special software.
What can the Flipping Book Maker software help you?
The main purpose to produce this software is to help you convert your txt documents into a flipping book. There are four formats for you to choose when you want to publish your designed flipping book. That is exe, zip, app and HTML. If you want to convert PDF file to flipping book, the 3DPageFlip Standard may meet your needs.
How can you design your flipping book with this free software?
Define your flipping book information with its title, size ,and the book proportion. You can find the tab on the left side of the software which full of comprehensive function to guide you to design the flipping book. In addition, a popular design will occur with 3D view is more eye-catching if you use the 3DPageFlip Standard.
Does Flipping Book Maker have any other particular feathers?
YES! It surely has.
You can find bookmark in the software.
You can share with your friend directly since it has the button 'Share' in the bottom of the interface.
You can print it according to your needs.
You can zoom in and out if you find the size not suitable.
You can play the flipping book in fullsceen.
All in all, you can do a lot with such free software!
Introduction to 3DPageFlip Standard:
--------------------------------------------------------------------------------------------------------------------------------------------------------------------
3DPageFlip Standard is a perfect tool to transform your PDF files format into realistic 3D page flip magazines. With 3DPageFlip Standard, You can create amazingly realistic 3D interactive magazines, catalogs, brochures, books or newspapers in minutes without any Flash/HTML or programming skills. And you can use your 3D Digital Brochure edition online, offline (on your PC, IPad etc), burn it to a CD/DVD or use it with an usb storage device.
The pages turn with the option of rolling the entire book in three dimensions, and this induces a feeling in users as if they are holding an actual book in their hands.
Use realistic 3D page flip magazines effect to promote your book, boost your book's sales or to demonstrate your book in realistic, visual 3D animation!