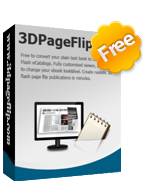 Freeware

Free 3DPageFlip Flipbook Maker
100% Free

software to easily creating e-Books, online magazines, flip brochure, and other publication for sharing.
Free flipbook builder to convert TXT to FlipBook, create online digital flash magazine.

More room for designing the style of own flash flip book, including three unique templates and comprehensive flipbook design settings.
Three eBook output type to choose: HTML, ZIP, EXE, for publishing online and offline.
Friendly reading support functions for high efficient digital reading like thumbnails, search, fullscreen, zoom in, auto flip, etc.
More user-friendly functions for readers: thumbnail, search, print, full screen, etc.
If you need to convert PDF to Cool flipbook with 3D panoramic effect, page flip effect, 3D Sphere Gallery, 3D spin video, ect, you can try 3D PageFlip Professional.

Free Trial
PDF to Flash
3DPageFlip Flipbook Maker is totally free software to convert text files into cool flash flip book with realistic page turning effect in a short time. It's a professional tool for eBook designing to create fantastic and wonderful digital publications like e-catalog, e-magazines, e-newspapers with unique template, beautiful background, concise tool bar, vivid eBook information, etc. The Flipbook Maker will be the great solution to help you impressed your readers, visitors with remarkable flipping eBook instead of a simple text document!
Benefits from Free 3DPageFlip Flipbook Maker:
Easy To Handle
This is a kind of software that is the most easiest to use 3D Flash flipping book creation software, which allows you to turn your TXT files to flipbook with engaging digital page turning effect.
Full Customizable Flipbook Settings
You can customize viewer interface, change flash book background with images or pure color, define toolbar colors, add or remove graphics and features, directly add company's logo into the digital edition. Define buttons in the tool bar. You can hide them if you don't need the function. Define flip effect for eBook pages. You can customization a native language for the flipbook individually.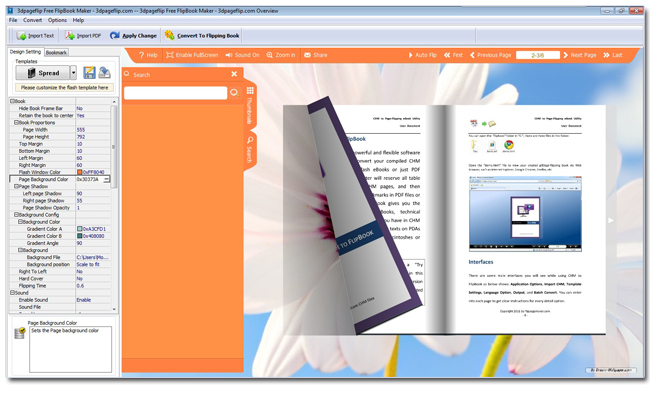 Friendly Reader Interface of Flipbook
Bookmark : Allows your readers to add bookmarks to your edition for easy reference and return to a specific page.
Search : Allows your readers to search for specific content within the edition. It allows readers to find key words, phrases, or sentences
Thumbnail: As an overview browser Interface, readers can get a full vision of the whole edition via the tiny flip page screenshots.
Print Button: FlipBook visitors can print single and multiple pages of the output e-publication.
Sharing: You and your readers can share the flip flash book to business associates, friends, customers, or other people.
Zoom in: It would bring convenience for different people with different screen size. A zoom function keeps the pages crisp, smooth, and easy to read.
Others: support auto-flip, full screen, page flip controls and more.
Publish Format For Freely Online or Offline Reading
Generate ZIP file or publish it as HTML flipping flash book directly, for online distribution. You can view the HTML flip e-brochure via a browser. The online publication can be put on personal web server, embed on social media, or embed it to email for fast, effortless.
Output EXE format to view flash flipping book as a unique programmer, no need to install any extra player;
Publish as ZIP format, easy to share your flipbook with your friends via email.
Burn it to CD. Send digital flash book via CD/ DVD to your customers
3 In 1 Templates for Different Flipbook Style
Classical: this template offers the most concise layout for flipbook, the tool bar is on the bottom and all focuses are on the flash book itself.
Float: show flipping book in middle floating window, you can set background for inner and outer background.
Spread: There top and left side tool bar for decoration. The eBook will be zoom out if you click the left side tool bar to call out thumbnail or search function.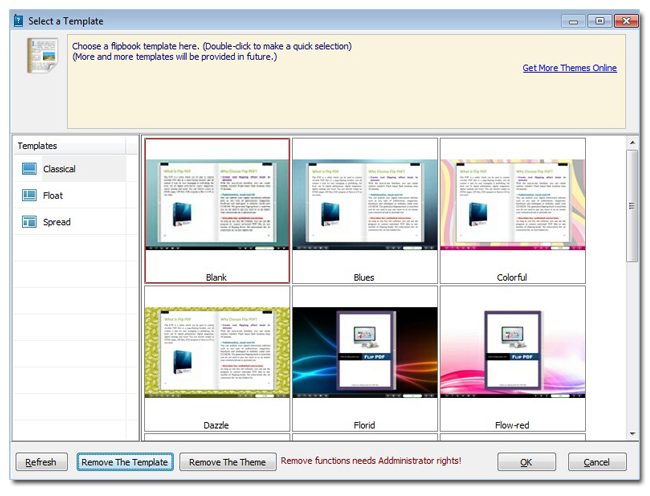 Introduction to 3D PageFlip Professional:
--------------------------------------------------------------------------------------------------------------------------------------------------------------------
3D PageFlip Professional is a comprehensive creator to convert PDF to flash flip eBook with 3D effect and multimedia content. The fantastic feature of the eBook is its 3D Look and realistic eBook look! Users can easily edit eBook page by inserting links, buttons, flash, images, etc, as rich and interactive content! Moreover, users can create 3D Model for their objects easily in this flipbook software. For example, you can create 360 degree spinning product to show an object fully. You can insert 3D Sphere Gallery for pictures to offer others a visual feast! 3D eBook is not only a page flip book for reading, but also a delicate exhibit as 3D e-magazine, 3D e-brochure, 3D e-catalog to show people the most fantastic 3D digital content!
Download