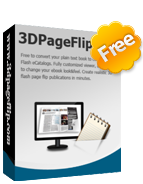 Freeware

3DPageFlip Free Flipbook Creator
Freeware

- Most easiest to use and powerful free flipbook software for building Flash publication in minutes
Professional e-publishing solution for beginner
Easy to use and user-friendly interface
Flexible output formats for varied purposes
Unlimited size and number for conversion
If you need to convert PDF to Cool flipbook with 3D panoramic effect, page flip effect, 3D Sphere Gallery, 3D spin video, ect, you can try 3D PageFlip Professional.

Free Trial
PDF to Flash
3DPageFlip Free Flipbook Creator is the most easiest to use and powerful comparing with any other free flipbook software, allows you to convert ordinary document to flip magazine, digital catalog to present your digital document, or digital newspapers, electronic magazines, digital catalogs, Christmas magazines, wedding magazine, company catalog. Enhance your customers, readers impressed by your remarkable digital magazine.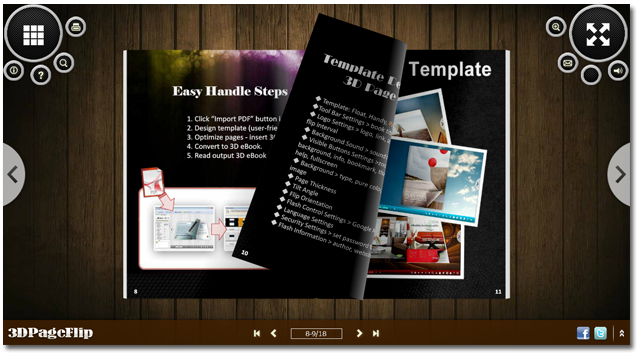 Social Network Integration

3DPageFlip Free Flipbook Creator comes with built-in toolbar buttons to enable readers to share your online flipping digital publications via email or multiple popular social media networks (Facebook, Twitter, LinkedIn, Digg and more sites), which can bring you with considerable reverse traffic. Simultaneously, you also can display your digital magazine, digital catalog, digital brochures and more directly in Facebook pages, rather than linking to them externally.
Basic Appearance Design
The free flipbook creator offers basic customization functions for user to design the layout and feeling of the created page flip publications.
Company brand
Change the default magazine logo with your company logo, and add link to it, as well as replacing the background image to match your need to display your company information.
Configure the toolbar buttons
You have the full control of making the buttons of navigation bars (top bar and bottom bar) visible or not. Also, designing the style, size or background of the navigation bar is easy. For the buttons, you are able to select to show or hide "Previous & Next", "Fullscreen", "Thumbnails", "Share", "Print", "Table of content", "Search", and other more buttons, and choose the style and layout of the buttons in the output Flash page flipping publications.
Decide to Publish Online or Offline
To match different requirements, three kinds of output formats (html, exe, zip) are available to publish the final publication online or offline. And for online version, it can be uploaded to your website for viewing via web browser.
Introduction to 3D PageFlip Professional:
--------------------------------------------------------------------------------------------------------------------------------------------------------------------
3D PageFlip Professional is a comprehensive creator to convert PDF to flash flip eBook with 3D effect and multimedia content. The fantastic feature of the eBook is its 3D Look and realistic eBook look! Users can easily edit eBook page by inserting links, buttons, flash, images, etc, as rich and interactive content! Moreover, users can create 3D Model for their objects easily in this flipbook software. For example, you can create 360 degree spinning product to show an object fully. You can insert 3D Sphere Gallery for pictures to offer others a visual feast! 3D eBook is not only a page flip book for reading, but also a delicate exhibit as 3D e-magazine, 3D e-brochure, 3D e-catalog to show people the most fantastic 3D digital content!
Download