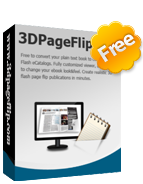 Freeware

3DPageFlip Free Flip Page Software
Freeware

- One of the best free flip magazine software you can find - faster and stronger
Fast in batch and single conversion work
Strong in magazine template designing
Flexible in final format choices
Safe in Flash magazine security
If you need to convert PDF to Cool flipbook with 3D panoramic effect, page flip effect, 3D Sphere Gallery, 3D spin video, ect, you can try 3D PageFlip Professional.

Free Trial
PDF to Flash
Free version of flipping page maker known as 3DPageFlip Free Flip Page Software has no advanced functions of making flip magazine but its features can fulfill your basic flip book conversion need. Also you are allowed to have your publication well designed by yourself with the pre-installed template editor. Then you can with ease publish the book online or make a executable file of flip book that run on PC. More features like flash security and making CD-ROM directly are included as well.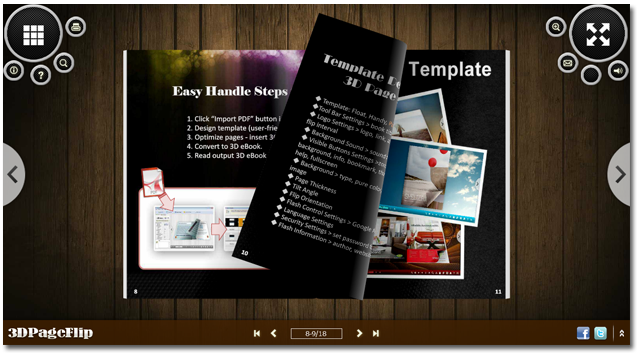 Main Features of Free Flip Page Software

1. Dynamic, lifelike flash based page flipping magazine software
2. Invite the world to see your publication through social networking sites such as Twitter, Facebook, MySpace and LinkedIn.
3. Instantly find out what you are looking for with the search function.
4. Preview all the pages of magazine via thumbnail list.
5. Brand your magazine with company logo and URL.
6. Take advantage of preset template source.
7. Customize modern style of flip magazine by yourself.
8. Adjust the size of publication with Zoom feature
9. Track the traffic of publication by adding Google Analytics
Introduction to 3D PageFlip Professional:
--------------------------------------------------------------------------------------------------------------------------------------------------------------------
3D PageFlip Professional is a comprehensive creator to convert PDF to flash flip eBook with 3D effect and multimedia content. The fantastic feature of the eBook is its 3D Look and realistic eBook look! Users can easily edit eBook page by inserting links, buttons, flash, images, etc, as rich and interactive content! Moreover, users can create 3D Model for their objects easily in this flipbook software. For example, you can create 360 degree spinning product to show an object fully. You can insert 3D Sphere Gallery for pictures to offer others a visual feast! 3D eBook is not only a page flip book for reading, but also a delicate exhibit as 3D e-magazine, 3D e-brochure, 3D e-catalog to show people the most fantastic 3D digital content!
Download