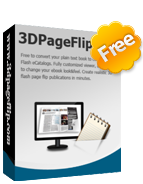 Freeware

3DPageFlip Free Flip Page Maker
Freeware

- Turn document into stunning page flipping magazine in minutes by simple mouse clicks
Build digital magazine from text document
Support for viewing on iPhone, iPad, Android device
Control your Flash flip page features
SEO friendly feature to modify meta tags
If you need to convert PDF to Cool flipbook with 3D panoramic effect, page flip effect, 3D Sphere Gallery, 3D spin video, ect, you can try 3D PageFlip Professional.

Free Trial
PDF to Flash
3DPageFlip Free Flip Page Maker is 100% free flip page book software, allowing you to convert any text book documents into Flash digital publications with incredible page turning animation. It's the ideal solution for those who want to have a book, magazine, catalog, newspaper or any other kind of document embedded into a website or webpage for online exhibition.Once created in html format, your flipping book collection can be easily uploaded to Internet for others to download them or share them on social networking websites such as Facebook and Twitter.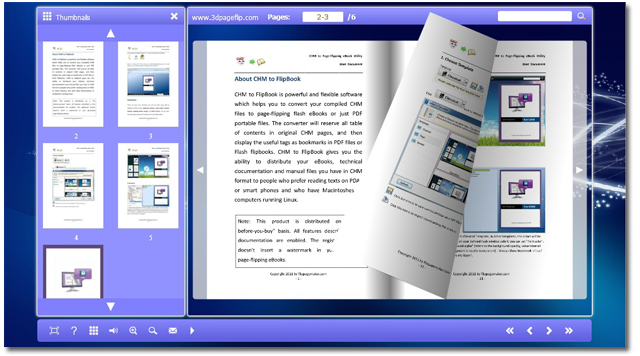 Main Features:
1. Self-define Book Interface : Customized settings allow you to decorate the book with background and toolbar colors, add or remove graphics and features.
2. Custom Logo : Apply your company logo directly to brand your digital edition.
3. Background Image : You are able to insert any image as the background of your edition.
4. Search Function : Enable the book readers to search for specific content within the edition
5: Thumbnail Panel : Instant overview of the whole edition with page thumbnail.
6. Bookmark : Edit bookmark when designing for easy reference and return to a specific page.
7. Printing Function : Print favourite pages of digital page flip edition or whole edition.
8. Send as e-mail : One-click to e-mail the digital edition to friends, customers and business associates.
9. CD Version : Preserve the final edition in a CD-ROM directly.
10. Save as html to share on social network like Facebook, Twitter.
11. Download, Print, Fullscreen and Page overview controls.
12. Easy Navigation - Online edition can be viewed anywhere and read as if realistic paper magazine with page flip effect. Search function enables readers to find target content by key words, phrases, or sentences; a convenient index and hyperlinks help readers locate information quickly; a zoom function keeps the pages crisp, smooth, and easy to read.
13. Integrated with online WEB marketing and Search Engine Optimization (SEO) features: Insert your own tracking code from your standard provider (e.g. Google Analytics) for recording visits of your online publication ; Animated teaser / banner for your online publication to place at your WEB site.
Introduction to 3D PageFlip Professional:
--------------------------------------------------------------------------------------------------------------------------------------------------------------------
3D PageFlip Professional is a comprehensive creator to convert PDF to flash flip eBook with 3D effect and multimedia content. The fantastic feature of the eBook is its 3D Look and realistic eBook look! Users can easily edit eBook page by inserting links, buttons, flash, images, etc, as rich and interactive content! Moreover, users can create 3D Model for their objects easily in this flipbook software. For example, you can create 360 degree spinning product to show an object fully. You can insert 3D Sphere Gallery for pictures to offer others a visual feast! 3D eBook is not only a page flip book for reading, but also a delicate exhibit as 3D e-magazine, 3D e-brochure, 3D e-catalog to show people the most fantastic 3D digital content!
Download