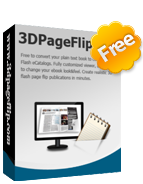 Freeware

3DPageFlip Free Flash Magazine Software
Freeware

- Create cool flash page flip magazine suitable on varied device like PC, smart phone, Pad
Non-traditional presentation of digital document
No programming and design skills required
Fully design Flash magazine based on per preference
Enrich your website by cool flipping book of HTML format
If you need to convert PDF to Cool flipbook with 3D panoramic effect, page flip effect, 3D Sphere Gallery, 3D spin video, ect, you can try 3D PageFlip Professional.

Free Trial
PDF to Flash
Create a stunning experience for your readers by presenting a beautiful digital edition that looks and feels like a real book; features range from flipping through the pages, realistic page turn sounds (optional) and even awesome background image to much functional buttons are all included in this free flash magazine software. And 3DPageFlip Free Flash Magazine Software will brings you much satisfaction.
---
Publish quickly and easily
The software is incredibly intuitive and user friendly enabling you to create your own digital editions in minutes. With an integrated 'publish' feature you can publish your digital issues on your website without even leaving the software. And the fantastic edit feature make it easy for you to change the look with preferred one.
Upload to your own host
If you are holding a website, the created flash magazine can be uploaded to your own host. 3DPageFlip Free Flash Magazine Software can convert document to not only executable type of flip magazine, also html type of flipbook, which can be uploaded to the Internet and viewed online. This helps to expand the reach of your digital publication. Upload produced flash magazine to your host or free web space, then you'll get a link to view the result. You can see the online book by either the URL of book or using the following code to embed the page flipping output in your website:
<embed src="URL of book" quality="high" width="100%" height="100%"; scale="noscale" align="TL" salign="TL" allowFullScreen="true" type="application/x-shockwave-flash"></embed>
SEO friendly
With the software you can set multiple seo profiles where you can customize the page title, description and keywords. You can then add the html pages to your sitemap to ensure search engine visibility. As well you are allowed to put the Google Analytics in the edition.
Introduction to 3D PageFlip Professional:
--------------------------------------------------------------------------------------------------------------------------------------------------------------------
3D PageFlip Professional is a comprehensive creator to convert PDF to flash flip eBook with 3D effect and multimedia content. The fantastic feature of the eBook is its 3D Look and realistic eBook look! Users can easily edit eBook page by inserting links, buttons, flash, images, etc, as rich and interactive content! Moreover, users can create 3D Model for their objects easily in this flipbook software. For example, you can create 360 degree spinning product to show an object fully. You can insert 3D Sphere Gallery for pictures to offer others a visual feast! 3D eBook is not only a page flip book for reading, but also a delicate exhibit as 3D e-magazine, 3D e-brochure, 3D e-catalog to show people the most fantastic 3D digital content!
Download