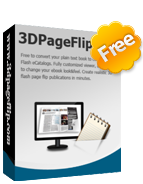 Freeware

3DPageFlip Free Flash Book Creator
Freeware

- 100% Free flash book maker to publish modern style flip magazine from normal document
Unusual document presentation to obtain attention
Powerful import and quick convert
Flexible output version for different need
Customize own style with various settings
If you need to convert PDF to Cool flipbook with 3D panoramic effect, page flip effect, 3D Sphere Gallery, 3D spin video, ect, you can try 3D PageFlip Professional.

Free Trial
PDF to Flash
3DPageFlip Free Flash Book Creator is utility but 100 percent free Flash Book Creator enables you to convert ordinary files into free fabulous page flipping publication with lifelike Flash animations and sound! Also you can expand the reach of your edition through the Internet. You can Distributing your TXT book on the Internet, then anyone anywhere can read your book via web browser, you can also share the created eBooks via email, and even distribute it on CD-ROM, all without paying royalties!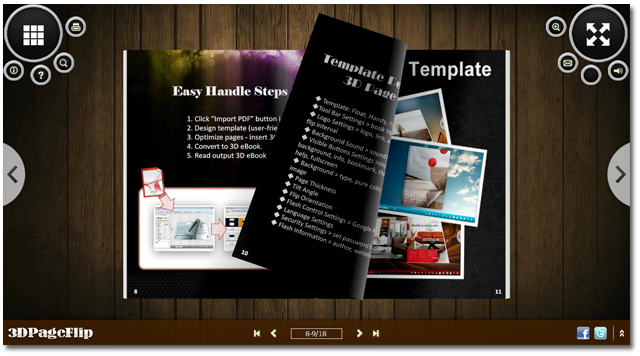 Free Publish Online or Email, Bun to CD

Unlike any other eBook document, your created Flash magazines, brochures or catalogs can be uploaded to web sites as standalone webpage or embedded into a webpage for displaying. Also save it to executable file to send Email and even burn to CD-ROM for share with others. All your created Flash catalogs are made royalty-free. You do not need to pay money to us no matter whatever you intend to do.
Unique Modern Style
With 3DPageFlip Free Flash Book Creator, you can customize your own unique style Flash book with simple steps. The edit tool of software provides you various custom settings, such as changing background color or image, inserting background sound, setting the Flash eBook display language with your First Language, making created booklet auto play or even adjusting the buttons.
Completely Free with Unlimited Conversion
It is an 100% freeware for everyone, you can use the application to convert an unlimited number of TXT Book to awesome flip book. No subscription fee, no conversion fee, no hidden fees ever. All the features software provides are free.
Introduction to 3D PageFlip Professional:
--------------------------------------------------------------------------------------------------------------------------------------------------------------------
3D PageFlip Professional is a comprehensive creator to convert PDF to flash flip eBook with 3D effect and multimedia content. The fantastic feature of the eBook is its 3D Look and realistic eBook look! Users can easily edit eBook page by inserting links, buttons, flash, images, etc, as rich and interactive content! Moreover, users can create 3D Model for their objects easily in this flipbook software. For example, you can create 360 degree spinning product to show an object fully. You can insert 3D Sphere Gallery for pictures to offer others a visual feast! 3D eBook is not only a page flip book for reading, but also a delicate exhibit as 3D e-magazine, 3D e-brochure, 3D e-catalog to show people the most fantastic 3D digital content!
Download