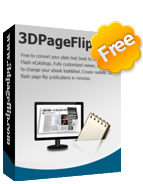 Freeware

3DPageFlip Doc to Image -
Freeware
100% Free software for LibreOffice to flipping book conversion with page flip effect!
Convert LibreOffice documents to realistic digital publication with page turn flash effect;

Double-window showing template help you vivid flipping eBook in a flexible background;
Comprehensive setting options to create various flippingbook layouts;
Support three output options for creating online flash eBook or offline digital book;
More user-friendly functions for readers: thumbnail, search, print, full screen.
If you need to convert PDF to Cool flipbook with 3D panoramic effect, page flip effect, 3D Sphere Gallery, 3D spin video, ect, you can try 3D PageFlip Professional.

Free Trial
PDF to Flash
Flash Player 10.0+
3DPageFlip Doc to Image is totally free for doc to image generation. It's simple to use with Batch Convert Mode, Hot Directory Mode, and Command Line Mode. This sophisticated image files conversion utility specifically designed to transfer doc documents, including TXT and RTF, into popular JPEG format images. It will be a good assistant, if you need batch convert for thousands of doc files to images files at a real time. Just sort out your doc files to a folder and add the whole folder to the software by a simple click, and you will get variety of images located in the previous defined folder.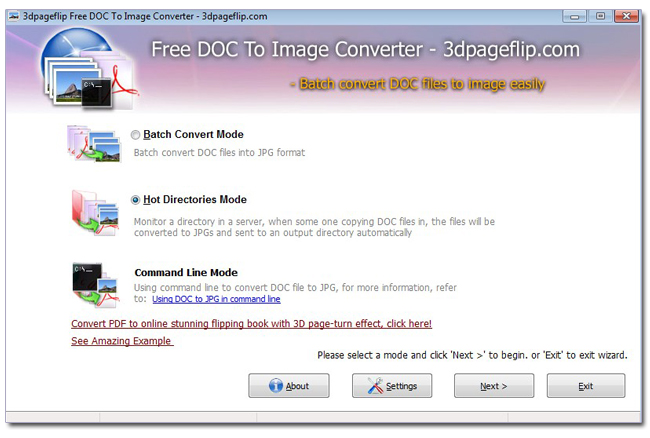 Advantage for Free 3DPageFlip Doc to Image:
1. 3 in 1 Conversion Mode for easy handle
Command Line Mode: 3DPageFlip Doc to Image can be run from the command line allowing for use in batch files as well as being used programmatically from other programs.
Hot Directory Mode: This is a kind of project to work by watching folders. Users can define the input folder for doc files and output folder for image files and make it work by dropping their files to the related folder. With Hot Directory Mode, you are possible to instantly create JPEG pictures that are used daily and widely from TXT or RTF files. No need to install additional application for supporting watching folder process. The steps are to define folders firstly, then drop doc files to input folders, and at last, the JPEG files will be generate in the output folder!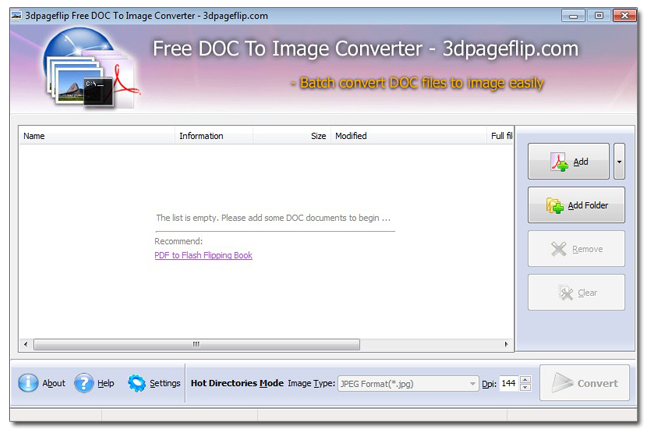 Batch Convert Mode: With 3DPageFlip Doc to Image, huge doc to picture conversion workload would be never heavy. The application has basic but practical functions to support batch conversion from TXT to JPEG. Click "Add" button to add doc files one by one or click "Add Folder" to add a folder of doc files. Then click "Convert" to choose output folder and it will implement the conversion task at once.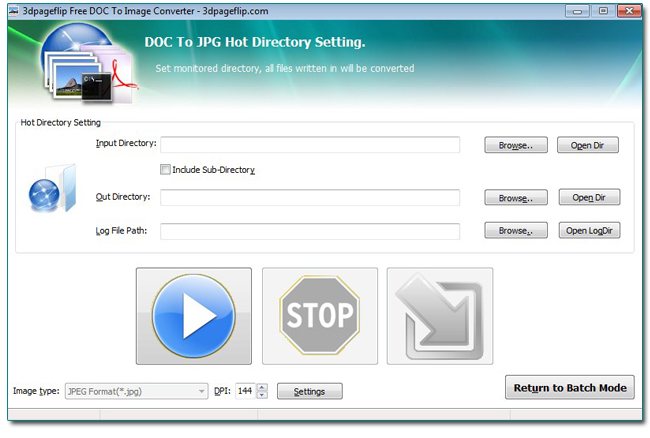 2. Set quality for output JPEG. Get clear picture with high quality and get blurry one with small size with low quality.
3. Easily transfer from Hot Directory Mode to Command Line Mode.
Introduction to 3D PageFlip Professional:
--------------------------------------------------------------------------------------------------------------------------------------------------------------------
3D PageFlip Professional is a comprehensive creator to convert PDF to flash flip eBook with 3D effect and multimedia content. The fantastic feature of the eBook is its 3D Look and realistic eBook look! Users can easily edit eBook page by inserting links, buttons, flash, images, etc, as rich and interactive content! Moreover, users can create 3D Model for their objects easily in this flipbook software. For example, you can create 360 degree spinning product to show an object fully. You can insert 3D Sphere Gallery for pictures to offer others a visual feast! 3D eBook is not only a page flip book for reading, but also a delicate exhibit as 3D e-magazine, 3D e-brochure, 3D e-catalog to show people the most fantastic 3D digital content!
Download