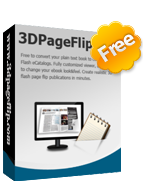 Freeware

3DPageFlip Doc to Flash -
Freeware
100% Free Doc to Flash Converter with 3 in 1 Conversion Modes!
Support batch create numbers of flash from doc files, including TXT and RTF;

Support Hot Directories Mode to automatically create flash from doc;
Support Command Line to finish flash conversion;
Transfer function between Hot Directories Mode and Batch Convert Mode;
User-friendly interface for quick handle without learning.
If you need to convert PDF to Cool flipbook with 3D panoramic effect, page flip effect, 3D Sphere Gallery, 3D spin video, ect, you can try 3D PageFlip Professional.

Free Trial
PDF to Flash
3DPageFlip Free Doc to Flash is totally freeware to be used to convert Doc format to Adobe flash (SWF) document. It is a best doc to flash converter which supports two imported format. They are RTF and TXT. The program is handy and easy-to-use. It can be run by using the user-friendly interface.
There are three convert modes to choose in the software. In Batch Mode, you are able to create flash documents from large volumes of RTF files or TXT files in real-time. The batch project would be a time saver for huge conversion work! Hot Directories Mode is designed to help someone automatically finish doc to flash conversion through dropping doc documents to a defined folder. With Hot Directories Mode, file conversions can be done simultaneously or consecutively. Free Doc to Flash is available via using Command Line Mode to quick launch Doc to Flash Converter for some programmer or other technically minded people.
3DPageFlip Doc to Flash Converter Key Features:
1. Support three Doc files to flash documents conversion modes, including Batch Convert Mode, Hot Directories Mode, and Command Line Mode.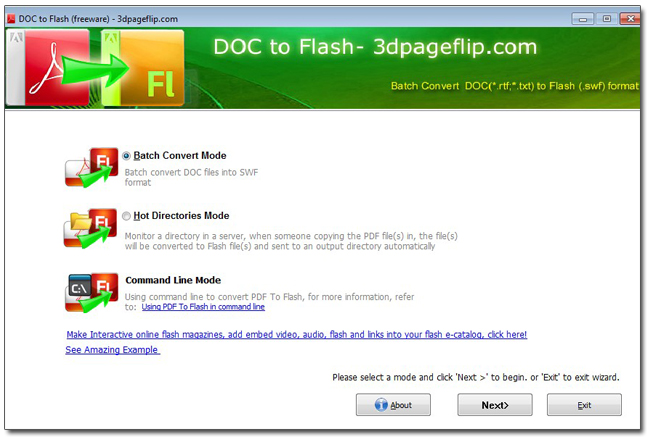 Batch Convert Mode: this is a flash creator to generate a series of doc files to flash files at a time. What you need to do is to add all your TXT or RTF documents to the software. The buttons in the tool bar would help you delete wrong imported files. Then click "Convert" and all would be flip from doc to flash.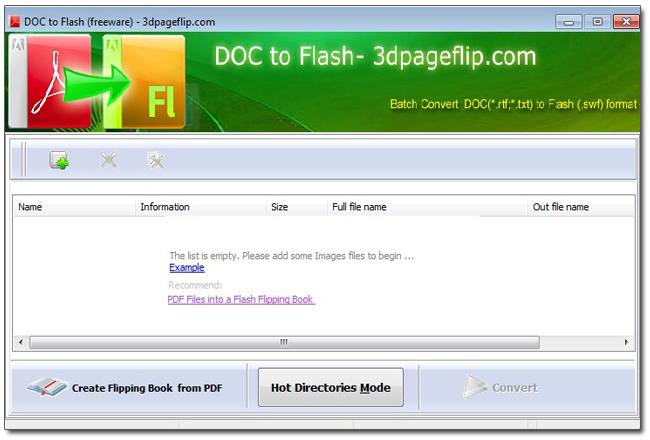 Hot Directories Mode: This is option to set up a watch folder in your computer for doc to flash creation. It means you can define a folder for import doc files and define another for output flash files. After all, others would get flash from the defined output folders from doc directly while they drop their doc files in to the defined imported folder. The project will be finished via watching the defined folders.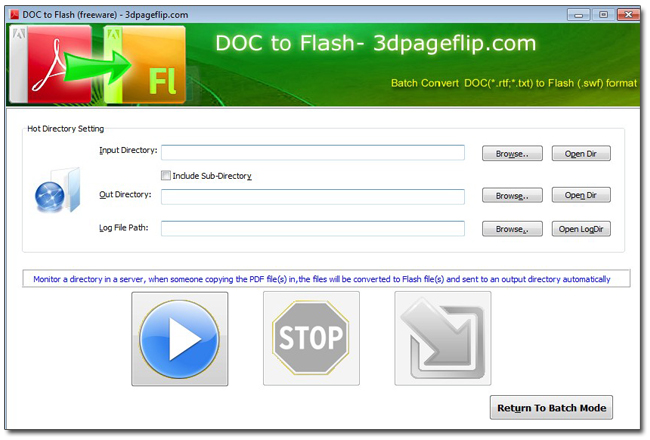 Command Line Mode: This is a great alternative to generate flash files. With this mode, users tryto run the free doc to flash application will produce the same effects for batch conversion. If you don't know how to use, click the link in "Command Line Mode" option. A Notepad would pop-up to guide you!
2. A high efficient multi-thread conversion engine for high-speed conversion.
3. Log showing option for clearly knowing the conversion process. It can be hidden as well.
4. Support transfer modes between Command Line Mode and Hot Directories Mode
5. Support to stop conversion in Hot Directories Mode.
Introduction to 3D PageFlip Professional:
--------------------------------------------------------------------------------------------------------------------------------------------------------------------
3D PageFlip Professional is a comprehensive creator to convert PDF to flash flip eBook with 3D effect and multimedia content. The fantastic feature of the eBook is its 3D Look and realistic eBook look! Users can easily edit eBook page by inserting links, buttons, flash, images, etc, as rich and interactive content! Moreover, users can create 3D Model for their objects easily in this flipbook software. For example, you can create 360 degree spinning product to show an object fully. You can insert 3D Sphere Gallery for pictures to offer others a visual feast! 3D eBook is not only a page flip book for reading, but also a delicate exhibit as 3D e-magazine, 3D e-brochure, 3D e-catalog to show people the most fantastic 3D digital content!
Download