Freeware

3DPageFlip Djvu to PDF-
freeware
Free eBook-Creation Software to Create PDF from Djvu Image
Quickly convert Djvu to PDF format;

Support multiple Djvu document conversions (Batch Processing);
Support Convert Djvu to PDF using watched folder and command-line mode;

Download
PDF to Flash
3DPageFlip DjVu to PDF Converter Lite is a lightweight and extremely easy to use piece of software designed to help you quickly and easily convert DjVu files to PDF format.
3DPageFlip DjVu to PDF freeware is so far the best easy-to-use DjVu to PDF converter. The super speed and easy-to-use features enable users to save time and get the best ouput PDF files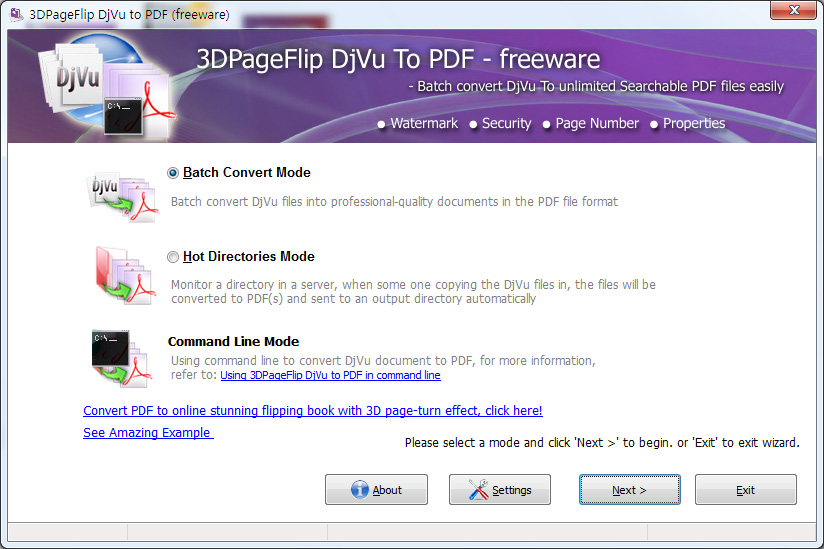 Features:
· Easy to Use Converting DjVu documents into PDF files couldn't be more easy.

· Simply Drag the .djvu files to the file list which you want to convert into PDF file and click the "Convert to PDF And Save as" button, 3DPageFlip DjVu to PDF quickly re-creates your djvu file as a fully formatted PDF files.

· Get the job done in seconds or minutes, not hours or days. 3DPageFlip DjVu to PDF eliminates the need to re-key and re-format PDF documents, saving you both time and money.

· It accurately retains the layout of the original djvu file. Converts text in over 100 languages and separates graphics from tables and text

· Document Format (PDF) is the fact standard for the secure and reliable distribution and exchange of electronic documents and forms around the world, and now you can convert any DjVu documents into professional-quality PDF file format only by one click
If you need convert PDF to 3D flash Flipping Book, please see : 3DPageFlip Standard
Introduction to 3DPageFlip Standard:
--------------------------------------------------------------------------------------------------------------------------------------------------------------------
3DPageFlip Standard is a perfect tool to transform your PDF files format into realistic 3D page flip magazines. With 3DPageFlip Standard, You can create amazingly realistic 3D interactive magazines, catalogs, brochures, books or newspapers in minutes without any Flash/HTML or programming skills. And you can use your 3D Digital Brochure edition online, offline (on your PC, IPad etc), burn it to a CD/DVD or use it with an usb storage device.
The pages turn with the option of rolling the entire book in three dimensions, and this induces a feeling in users as if they are holding an actual book in their hands.
Use realistic 3D page flip magazines effect to promote your book, boost your book's sales or to demonstrate your book in realistic, visual 3D animation!