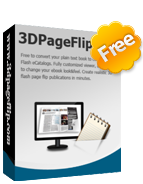 Freeware

3DPageFlip Free Digital Magazine Maker
Freeware

- Excellent free magazine creator to produce page-flipping magazine with ease
Build attractive electronic magazine from common file
Lifelike dynamic page flipping animation effect and sound
Ornament the layout and theme of book by yourself
Exhibit final flip book online by sending to web
If you need to convert PDF to Cool flipbook with 3D panoramic effect, page flip effect, 3D Sphere Gallery, 3D spin video, ect, you can try 3D PageFlip Professional.

Free Trial
PDF to Flash
3DPageFlip Free Digital Magazine Maker is a utility and easy-to-use digital magazine software for anyone to produce lifelike Flash page flip publication. And for flash magazine, it is an awesome document type to attract more attentions to the content of book. Even though you are a layman to Flash programming, the convenient features of software make it possible for you to create amazing online magazine by mouse clicks. Moreover exquisite templates are pre-installed to enable you to make books easier, also you are able to design your own style of magazine by rich editing features.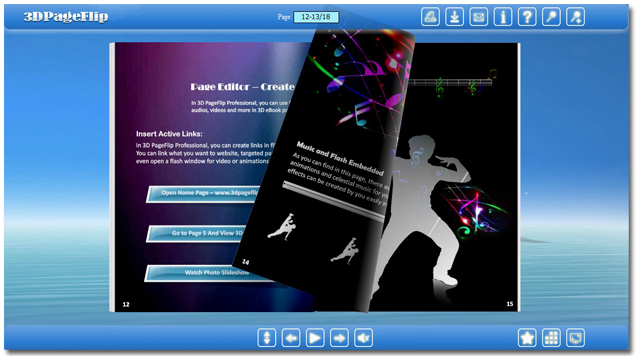 Ⅰ. Easily Navigable Interface and Simple Operation

3DPageFlip Free Digital Magazine Maker is charactered by its convenient feature, even if you are a beginner of digital magazine, you can with ease take advantage of this software to create your first digital magazine, by a few mouse clicks.
Ⅱ. Add Flash Security to Keep Your Publication Private
3DPageFlip Free Digital Magazine Maker is free but fully functional, it can fully cater to your basic requirement like setting password to protect your produced electronic magazine from unauthorized access. Moreover you are allowed to select a certain page range for password protection.
Ⅲ.Customize Fabulous Magazine at The Least Time-consumption
With professional functions and options, Free Digital Magazine Maker enables you to customize a fabulous digital magazine with least effort. With a variety of free online templates and themes, your digital magazine will turn to be more beautiful and vivid.
Introduction to 3D PageFlip Professional:
--------------------------------------------------------------------------------------------------------------------------------------------------------------------
3D PageFlip Professional is a comprehensive creator to convert PDF to flash flip eBook with 3D effect and multimedia content. The fantastic feature of the eBook is its 3D Look and realistic eBook look! Users can easily edit eBook page by inserting links, buttons, flash, images, etc, as rich and interactive content! Moreover, users can create 3D Model for their objects easily in this flipbook software. For example, you can create 360 degree spinning product to show an object fully. You can insert 3D Sphere Gallery for pictures to offer others a visual feast! 3D eBook is not only a page flip book for reading, but also a delicate exhibit as 3D e-magazine, 3D e-brochure, 3D e-catalog to show people the most fantastic 3D digital content!
Download