Take Your eBook Into A Whole New Level To Stun Your Readers
Posted on July 8th, 2013
The days of boring old ebooks have come to an end, 3D PageFlip Standard can turn any pdf, Microsoft Office, Open Office or images into a flash animated flip book. Imagine how your customers will respond when they visit your website and see your next ebook in 3D with a cool animated background. With 3D PageFlip Standard software, even a newbie can create a spectacular page flip creation with very little trouble.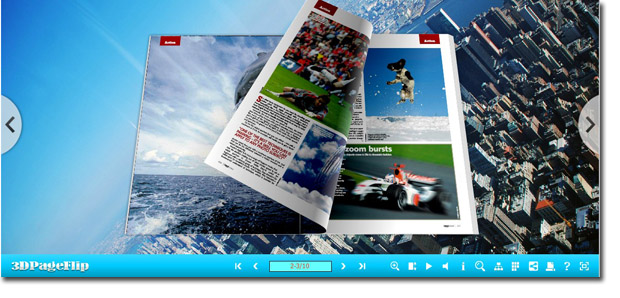 Under the hood
3D PageFlip Standard is a unique piece of software that will take your next ebook to a whole new level. Using the software makes it possible for you to turn your next project into an eye-popping flip book without needing to know anything about Flash or HTML coding.
In a matter of minutes you will be designing your own awesome looking catalogs, 3D magazines, e-newspapers and ebooks with little effort. Learn how to use animated backgrounds and other 3D technologies to create spectacular web pages.
Designing Your PageFlip Projects
The software makes it very simple to create and customize your page flip design. You simply add the title of your book, branding, logo and the follow settings:
Toolbar settings
Language Settings
Security Settings
Copyright Settings
Pre-loader Settings
Each of the above settings are included to improve experience and encourage your visitors to purchase your ebook.
Packed with templates and animated scenes
To help you add a special touch to your 3D Flip Book, you can look through the many 2D and 3D templates that included. Along with that, you choose from animated scenes including panoramic to add that extra pop your page. There are also included controls to give it an interactive feel for your visitors. One of those controls allows your reader to rotate the book 360°.
Publishing and Share your page flip book
Once you have it designed you have several options available for sharing it from the software. You can use the provided HTML coding and add it to any website or it can be embedded on your own blog. Another way is to send it directly to people through email with Zip HTML. You also have the option to share it using 3DP format and by using a special 3D PageFlip Reader and they can easily view it from their PC.
For online only access you can upload it to 3DPageFlips server, this is part of the purchase of the software. You will need to set up an account and use the Upload Online Feature. Once you upload it to their server anyone all over the world would have access to your pageflip book as long as they have a browser.
Conclusion
More and more these days, users on the internet have become very visual and websites that feature boring text get very little attention. You need to get your hands on 3D PageFlip Standard software. You will be amazed at how easy it is to use. With it you can turn a simple pdf document, Word, Excel, PowerPoint file and images into a stunning pageflip work of art. Just click here and see it for yourself.
Hot Products