Challenge to Traditional Digital eBook
– Spin Fantastic eBook in 360 Degree in 3D Panoramic Space with Page Turning Effect
Posted on October 12, 2012
Digital book develops rapidly today. When users still read eBook with plane and formalistic layout, a kind of newest, fantastic 3D eBook has born! Once someone opens the eBook, he will be shocked suddenly for its 3D spinning appearance. How will you feel if your eBooks flipping like dancing from sky to land in 360 degree and at last display in front of you with stunning page turning effect? Up to now, many users have reflected that they were surprise for these updating 3D eBook. It's true that this kind of 3D eBook has created new era of digital eBook world.
The technology is high, but the way to create is easy! This kind of page turning eBook with 3D panoramic effect can be easily made by anyone. Two preparations should be done. One is to prepare an own original PDF file and another is to install 3D PageFlip Professional. This is a kind of flipbook software aims to convert PDF to 3D page flip book. The steps are easy to handle: import PDF as flipbook, design layout and define 3D effect, publish. With 3D PageFlip Professional, users can select stunning panoramic template for his flash flipbook. That means readers just need to rotate the mouse wheel or drag book angle and the eBook will spin in a fantastic 3D way.
What's more, the 3D page flip book software support to make detailed setting like book mark, tool bar, button design and so on. In addition, the eBook content will never be ignored in this software, because users can add multimedia objects to flipbook pages. For example, display bitmap buttons for any links to other pages or websites. Create photo slideshow for an inserted image to get lively show. More and more, flash and video will be available in the 3D flip page as well as texts and animated pictures. More information about 3D PageFlip Professional is listed here: http://www.3dpageflip.com/pageflip-3d-pro/. The developer of 3D PageFlip Professional said, he will keep perfecting this software, to make the 3D scene more realistic, in order to help people create their own digital e-magazine, flip catalog, online brochures with 3D page flip effects. Get close to 3D eBook from: http://www.3dpageflip.com/ .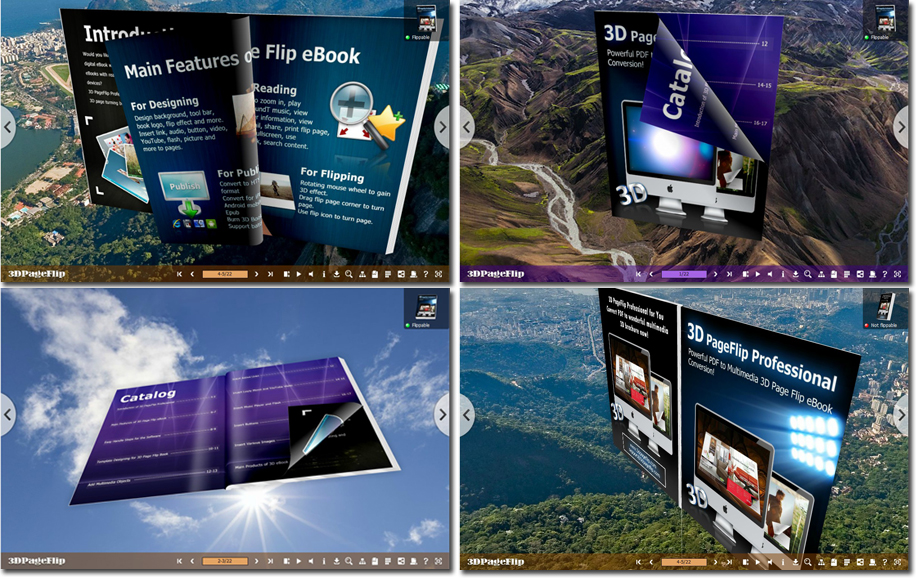 Hot Products