Can I lock the page in my page flip book?
3D PageFlip software brings you security for protecting your 3D page flip book.
Posted on August 09, 2012
We publish 3D page flip book online to share with our friends, classmates, customers or even strangers. However, not all the time we want to show it to others. Sometimes we desire to protect our 3D page flip book and allow just a part of the people to view the digital book. But once we publish online, every one who surf on the internet can read it. What can we do to share page turning book to targeted people?
Maybe you can publish as an exe format and send it to others via email. But it's not convenient if you want to share with many people. There is a way to solve this problem. You can lock all page of flip book or lock the target page in the page flip book. And then you can give the password to the people you want to share your eBook with. When they would like to read your 3D eBook, they should enter the password and the one who don't have your password will never be allowed to view your page flip book.
Firstly, Click "Settings>Security" in the navigation bar in 3D PageFlip standard.


Secondly, choose "Single Password" and enter your password. Then choose the pages in the Protect Page Range. You can select "All Pages" or "Exclude Front Pages". Exclude Front Pages is to set a page number. Then all latter pages can't be viewed without inputting password. Click OK to apply change.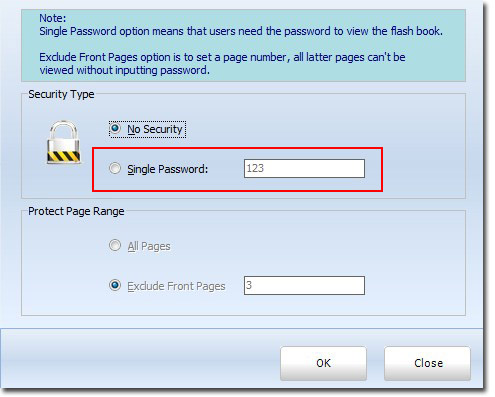 Thirdly, publish the book.
Here is an example, the fourth page has been locked and the password is 123. You can view the effect from this page flip book example.
Hot Products