Attract Your Friends with Eye-Catching 3D Page Flip Ebook
Posted on October 03, 2012
Looking forward to your friends' appreciation? Or maybe you have racked your brain out during thinking about how to please your friends or bring surprise to them. Maybe something designed or make by yourself will be great and meaning full to your friends, such as digital photo album with rich photos about you and your friends, or a tiny e-magazine record your friendship which has been recorded in a CD. No matter it's a digital photo album, an e-magazine or some other eBooks, it all can be delivered through 3D Page Flip Book which can bring special reading experience like a real book but more than a real book.
What you need to do is simply to install a little PDF tool and prepare your material in PDF file. Then have a quick convert from PDF to 3D page flip book with stunning page turning effect. What's more, a lot of multimedia elements like flash, video, links, buttons can be added in the 3D page flip book. How fantastic and personalized the eBook is. At last, you can choose the most suitable output type for the eBook, including HTML, ZIP, and EXE. In addition, you can burn it to CD as you like. Can you imagine how your friend's mood would be changing when he or she receive your CD? First wondering, and then expecting what would be like in CD, in the end surprising and astonishing the special gift?
Why it can attract your friends? There are three main reasons for you and every reason is controlled by your own! First, wonderful 3D effect and page turning effect with realistic eBook layout are displayed in each detailed of the page flip book! When you open the eBook, a spinning eBook is flip out from far to near. Then you can rotate the eBook with the most suitable 3D angle to start your reading. Of course, the page corner will be dragged by your mouse or flip automatically which will bring interactive reading experience all the way. Second, there are powerful additional reading supported tool in the eBook, like bookmark, share link, thumbnail, print icon which will bring great convenience to your reading. If you are the creator about 3D page turning book, you can define every detailed of the eBook like changing the language, hiding the unnecessary button, setting background picture and tool bar color and so on. If you are a reader of the 3D eBook, you can zoom in and out, quick reach targeted content by search engineer in flipbook. Third, the comprehensive page editing functions can't be lack of since you want to make rich eBook content. That means you can not only gain an eBook with text and pictures, but also can design the eBook with flash, video, audio and more wonderful multimedia elements! It's full vision for using and reading. It's comprehensive for delivering and sharing information.
Start from now on to attract your friends with eye-catching 3d page flip ebook. I believe you can create the most representative work by your own! Know more about flash 3D eBook: http://www.3dpageflip.com/.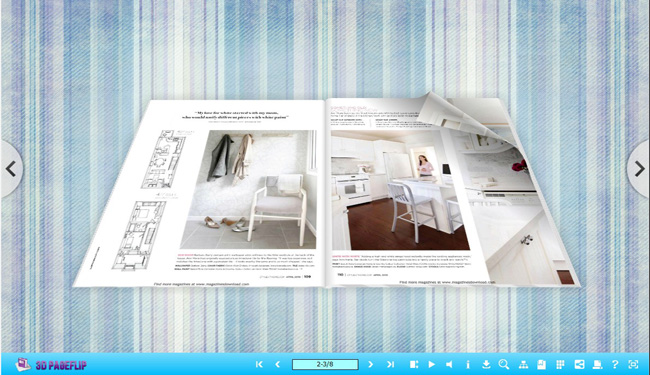 Hot Products