3D Pageflip Released 3D Page Flip Book Software with Multimedia Editor
Posted on August 05, 2012
3D Page Flip software is used in converting PDF to 3D page flip book.The newest version of 3D Page Flip Professional 2.0.12 was published by 3D PageFlip Company. The newest function was added to support flipbook users to create 3D flipbook with multimedia elements in the flip pages, such as flash, website link, videos and more interactive actions were included in the Multimedia Editor.
The new function-Multimedia Editor is the characteristic of 3D Page Flip Professional 2.0.12 which keep it different from other flip book maker. The traditional features, including share function, zoom options, search engineer, thumbnail, print supported, table of content supported, enables flip book users to create digital book with 3D effects and page turning effects. In addition, Multimedia Editor in new version helps improve user experience of flipbook with adding rich multiple contents, including adding flash to flipbook page, adding buttons to link to targeted website, targeted book page or picture slide show in the flipbook, embedding movies to flip page, creating music for each page, inserted existed YouTube video and more potential function for creative designing.

"Imagination of human is large. To meet all peaple's needs, we keep improving our 3D flipbook software. With a more comprehensive and easy page editing function, users can create 3D flipbook more access to their ideal." Said Mr Guo, one of the 3D PageFlip products developers.
Main Features of 3D Page Flip Professional 2.0.12:
Add link, supported six link actions: Go to Page, Play audio, Open web page, Photo slideshow, Call Javascript, Show Video/SWF/Text.
Add movie, supported native video (*mp4,*flv)
Add images, creating image link, supported six link actions: Go to Page, Play audio, Open web page, Photo slideshow, Call Javascript, Show Video/SWF/Text.
Add sound, supported adjusting size of music player.
Add flash, create flip page dynamic effects.
Add button, creating button link, supported six link actions: Go to Page, Play audio, Open web page, Photo slideshow, Call Javascript, Show Video/SWF/Text.
Add YouTube, share YouTube frequently.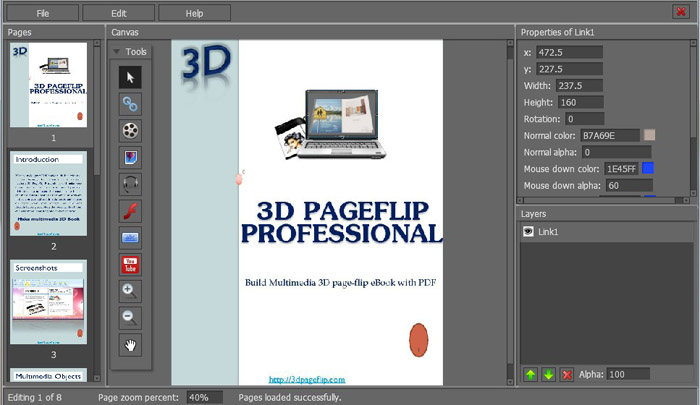 The new function can be handled easily, new 3D flip book users can master easily and senior flip book users can make multimedia flipping book freely. Simple and concise editing interface saves users' time with little effort.
Visit here to get more information about the newest version of 3D Page Flip Professional: http://www.3dpageflip.com/pageflip-3d-pro/
The newest version is $299. Absolutely, there are other options for you to choose, 3D PageFlip standard which is without Multimedia Editor is $99, a Mac version for Mac users of 3D PageFlip standard is with the same price. More products are for selling: http://www.3dpageflip.com/
About 3D PageFlip:
3DPAGEFLIP is the flipbook company created in 2008. To cater the strong market demand and catch up with time, we keep developing, improving and updating 3D page flip book software. Our PDF to PageFlip 3D software is designed to make PDF conversions easier and simpler for everyone. 3DPAGEFLIP technology, the richest and most exciting form of interactive communication available on the market today. We can now deliver 3D Publications to a wide variety of customers, which includes both public and private companies, organizations and unions.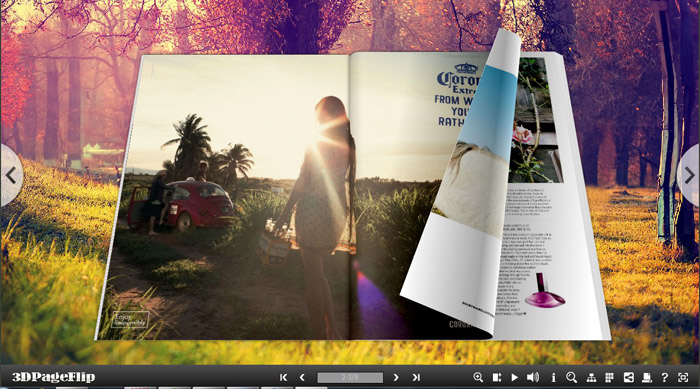 Hot Products