3D eBook with Rich Multimedia Content – 3D Panoramic Background & 360 Degree Product & Video in 3D Space
Posted on November 10, 2012
Hi, friends, here I would show a digital eBook with lots of 3D effects, which is created by 3D PageFlip Professional. You can easily design and enjoy all these effects from 3D page turning eBook!
Now let's download and install the software and let's go from the beginning. Once you open the eBook, a spinning eBook will fly up to down in a 3D panoramic background with wide sky and blue sea, stopping in front of you. Just drag to turn page. Control it to rotate through the panel on the right top, then double click to move back to default.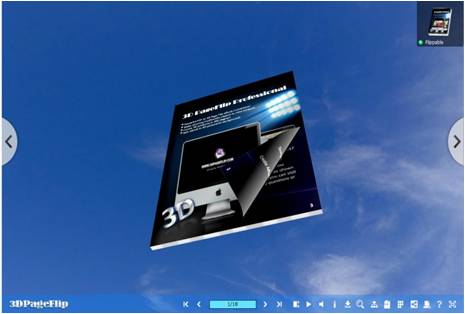 Now let's enter the 360 degree page, a pop-up object will light up the book. You can click it to stop spinning. Drag it to view in different angle, then you can double click it to spin 360 degree again. OK, close the 3D object. Let's move on to photo slideshow effect! View pictures in a slide mode!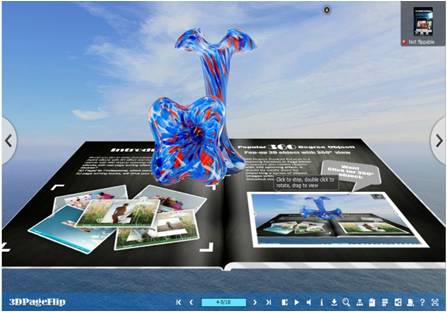 Move to button effects page. In this page, you can click buttons to watch flash, listen to music, open URL links and more! Let's totally drag to the next page, stunning flash and music will crash us!
Then let's watch a video! Not a ordinary one! Look, a big screen stand up after you click to start playing video. You can move the video in the 3D space freely to view in any angle! How fantastic the page flip book is, isn't?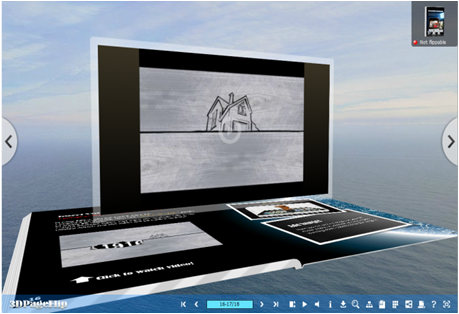 Yes, that's parts of 3D eBook features, what you need to create such an eBook is to prepare an original PDF, a FLV video, a SWF flash, or something like that! After all, take these to 3D PageFlip Professional and you will get 3D multimedia eBook directly. No programming or 3D knowledge is needed!
Like it? Visit www.3dpageflip.com to know more!
Hot Products