3D Ebook, Special 3D Way To Show PDF To Customers For Ecommerce
Posted on December 1, 2012
As a businessman, lots of documents are waiting for you to deal with, including PDF. Some are as product help documents for software users. Some are product new release for public. Some keep as shopping guiding eBook for potential customers. But wait! Does anyone want to make some creation for the ordinary PDF, such as making it vivid in 3D vision? Yes, that's something new in eBook technology. Nowadays, everyone can use an eBook tool like 3D PageFlip Professional to convert PDF to realistic 3D page turning eBook with ease. No other programming skills or further 3D technology to learn. That means 3D eBook popularization in e-commerce will never be a dream. How fantastic it is. How can PDF become 3D effect for reading and for promotion? It can easily be described in one sentence. That is a software convert PDF to flipbook and use a built-in 3D model to accomplish 3D render. The features will be summed up below.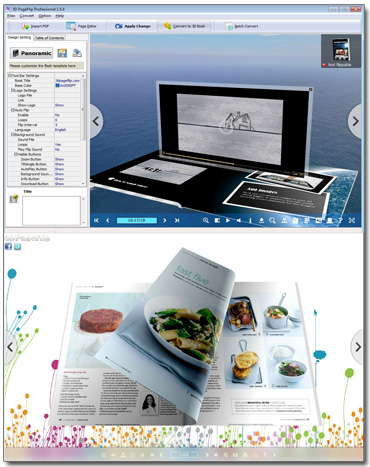 1. 3D spinning appearances effect to catch readers' heart at first sight
People are curious about what they have never seen before. How can they feel if a 360 degree spinning eBook crash in their eyes with spectacular panoramic background while they are surfing online, reading anything aimlessly? They must stop, find out what happened. That is why a 3D eBook can attract others more quickly and more easily than any other ordinary digital books.
2. Page Flip effect for eBook with lots of multimedia content to support information delivery
Totally, a page flip eBook with gorgeous layout is not enough. Today, useful content for readers is more smart way to take further development and create deeper impact on line. 3D eBook includes lots of multimedia content like videos, YouTube embedded, links, buttons, animation picture showing, and more other objects to support users deliver their information freely and comprehensively. Readers can dray book page to turn just like enjoying a real book in book, but more than a real book with such rich and helpful content! It can be accepted as an intelligence reading ways which aims to improve reading efficiency.

3. 360-degree product showing and 3D video watching improve e-commercial conversion
As other say, 360-degree product imaging is the future of ecommerce. More and more company offers 360 degree product photography service which aim to bring more great experience to customers. They can know more about the product via a 3D spinning object instead of an unreal picture. That is why 3D eBook take it as consideration. With the software, users can easily create such 3D products in eBook page. For example, click a product picture in the page and a 3D one will pop-up to show you every angle of the products. 3D video is like this. Video marketing is popular these days. A great video will bring company direct orders. However, if people is lack of money to made high-quality one, they can try a new showing way, like 3D video, which will pop-up from the panel screen and show in 3D space. It is more cost-effective, isn't it?

More 3D eBook information is in http://www.3dpageflip.com/. Of cource don't forget to view its example first: http://www.3dpageflip.com/example.html.
Hot Products