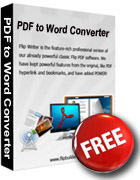 Freeware

Free PDF to Word Converter
Simple & Useful Software Help You Convert PDF to Word
100% free software for you to edit PDF file.

Select PDF file to convert and output doc file easily.
Set the quantity of the converting pages
Freely to decide whether retain shapes and images or not.
Convenient for you to open document for editing after conversion..

Download
PDF to Flash
PDF to Word Converter is the free software which is proved to be the practical PDF application software. Its biggest feature is changing PDF file to Word rapidly. In this case, you are allowed to edit your PDF file after it switching to a Word format.
As we all know, one of the PDF file advantage is that it can keep the same design and layout from one document processing platform to another platform. The file would never be changed when it face different readers. However, its stability makes it hard to edit. In this case we need some tools to help us edit the file when it has some faults or we may need to update it when its content is out-of-date. PDF to Word Converter is one of the software which can help to make up the weakness of PDF. In today's world, editing PDF will be easier than ever before.
What are its features and functions? It will be introduced as below.

Simple & Clear Interface:
Simply user interface make it available for all of us to use. You can know how to use it as you enter the software because its interface is concise.

Detail Function:
Select PDF for conversion.
Output Doc file.
General Option includes the convert pages, retaining shapes and images or not, using text-box or not and so on.
Support opening document for editing after conversion.
Pay Attention:
Although this free software brings convenience to you, it's not the most perfect software to cater all your needs. I may suggest you to use another senior PDF to Word converter software when you need to edit complicated PDF documents.
Of course Make a 3D page flip book after you editing your PDF file. through your efforts, you may have desire to make it more available. There is a suggestion here. Make a 3D page flip book after you editing your PDF file. This 3Dpageflip book software will help you to create interactive digital 3D books or vivid flipping book. You can have a free try 3DPageFlip Standard
If you need convert PDF to 3D flash Flipping Book, please see : 3DPageFlip Standard
Introduction to 3DPageFlip Standard:
--------------------------------------------------------------------------------------------------------------------------------------------------------------------
3DPageFlip Standard is a perfect tool to transform your PDF files format into realistic 3D page flip magazines. With 3DPageFlip Standard, You can create amazingly realistic 3D interactive magazines, catalogs, brochures, books or newspapers in minutes without any Flash/HTML or programming skills. And you can use your 3D Digital Brochure edition online, offline (on your PC, IPad etc), burn it to a CD/DVD or use it with an usb storage device.
The pages turn with the option of rolling the entire book in three dimensions, and this induces a feeling in users as if they are holding an actual book in their hands.
Use realistic 3D page flip magazines effect to promote your book, boost your book's sales or to demonstrate your book in realistic, visual 3D animation!